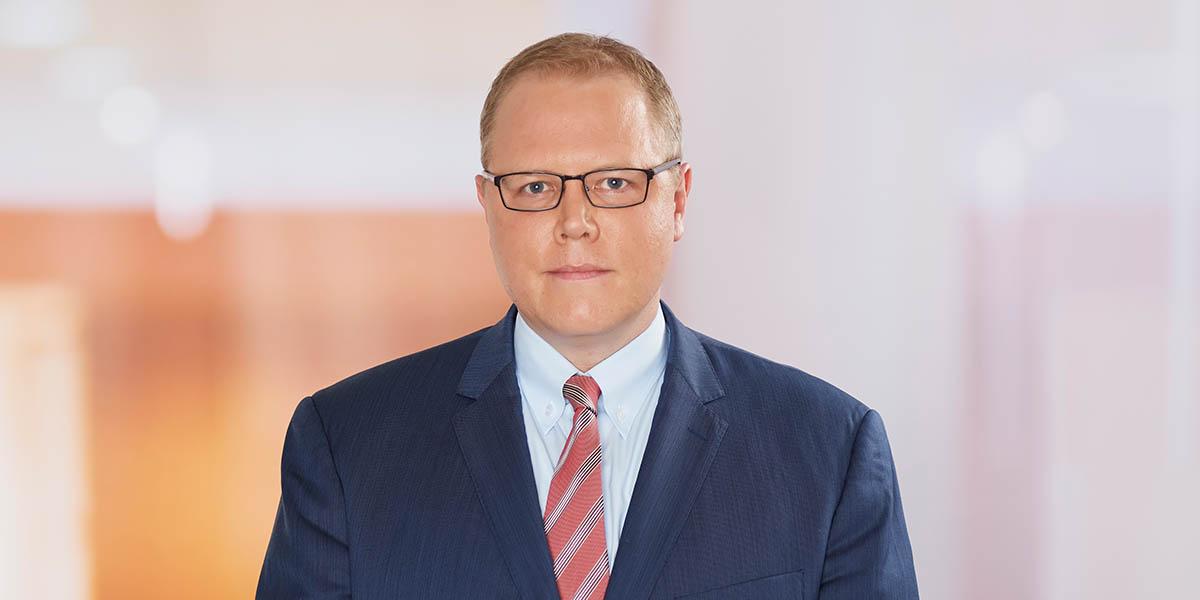 Rob is an attorney experienced in patent litigation and licensing. He practices primarily before the International Trade Commission and various federal District Courts, both asserting patents and defending against allegations of infringement. One major aspect of his practice involves joining parties wishing to sell or monetize patents with those interested in investing in monetization programs.
A trained engineer, Rob assists in the evaluation of patent portfolios, identification of patents for assertion, negotiation of terms between these parties, and all aspects of the ensuing assertion programs. Rob has a particular interest in standard-setting organizations and has published several articles on "fair, reasonable, and nondiscriminatory" (FRAND) licensing terms, which may encumber patents that are essential to such organization's standards.

In addition, Rob has a background in complex litigation, products liability, and criminal and appellate law. As a member of the Massachusetts Committee for Public Counsel Services, Post-Conviction Relief Panel, he represents indigent defendants on appeal. After law school, he clerked for Hon. Fernande Duffly, then of the Massachusetts Appeals Court. He has represented Fortune 500 companies in class actions, toxic torts, and products liability litigation. Rob also served as staff attorney at a leading public health think tank in Boston. He has been an adjunct faculty at New England Law Boston and a course instructor at Tulane School of Public Health and Tropical Medicine.
Education
Northeastern University (JD)
University of Massachusetts - Amherst (BS, Computer Systems Engineering, Mathematics, cum laude)
Recognition & Awards
Included on the Massachusetts Super Lawyers: Rising Star – Intellectual Property Litigation list (2013 – 2018)
Involvement
Member, Federal Bar Association
Member, Massachusetts Bar Association
Co-chairperson, Northeastern University School of Law Boston Regional Alumni Chapter
Board, Law Section, American Public Health Association
Faculty, Public Health Law, New England Law Boston (2013)
Faculty, Occupational Safety and Health Laws and Compliance, Tulane University School of Public Health and Tropical Medicine (2010 – 2012)
Recent Insights
Viewpoints
News & Press In this Law360 "Expert Analysis" column, a team of Mintz intellectual property attorneys discuss the Federal Circuit's modified opinion in Power Integrations v. Fairchild. The piece notes that this opinion is a retreat from an earlier ruling that set an unattainable standard for invoking the entire market value rule. The column is authored by Member Steve Akerley, Of Counsel Philip Ducker and Associate Rob Moore. This column notes that with the legal landscape surrounding SEPs shifting in many countries, it has never been more important to take a global view of patent assertion – but any cross-border litigation strategy needs careful consideration. A team of Mintz intellectual property attorneys including Members Mike Renaud and Jim Wodarski and Associate Rob Moore authored this column.
Events At "Determining FRAND Royalties for Standard Essential Patents: Your Step-by-Step Guide," thought leaders and practitioners will discuss the methodologies used in determining FRAND royalties as well as updates regarding the latest and significant issues.
Events
Panelist
Massachusetts Chapter of the Federal Bar Association
Boston, MA