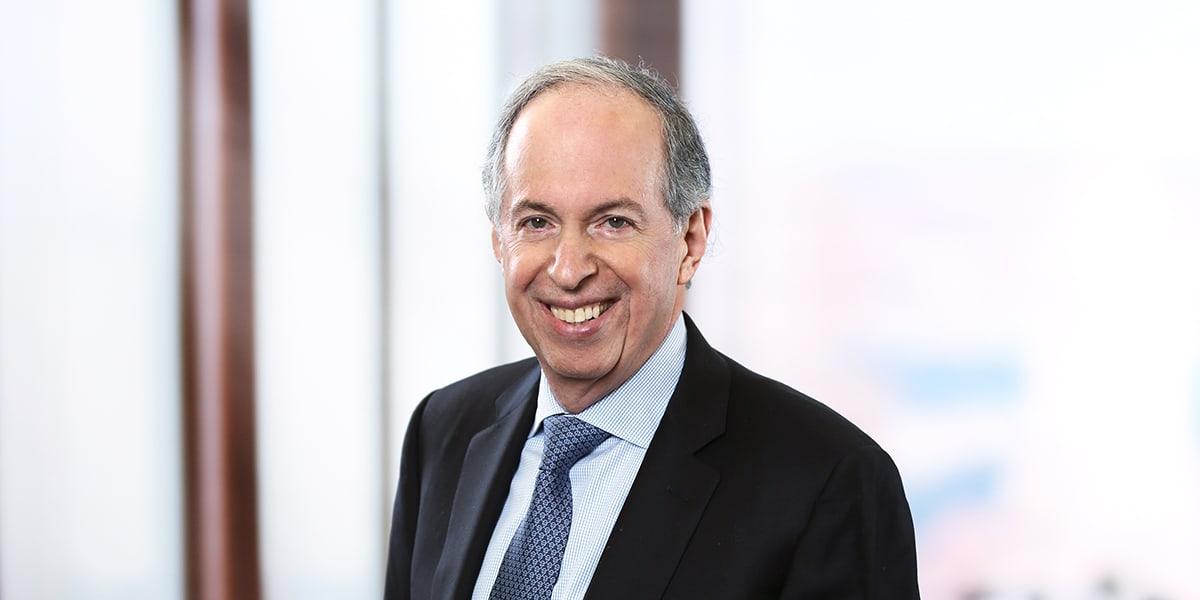 Stephen has more than 40 years of experience in the practice of commercial real estate law, both nationally and locally.  His depth of experience provides him with the ability to provide solutions to complex problems his clients encounter in their transactions.  He focuses on sale/leaseback structuring and implementation; development and construction of data centers, distribution centers, high-rise residential buildings and shopping centers; sales, acquisitions and financings of commercial properties; retail, office and data center leasing; structuring and utilization of public, private partnership transactions in the development or improvement of real estate properties; and financial restructurings for developers and other property owners.
Stephen is the co-head of the firm's interdisciplinary sale/leaseback practice, including both single and large scale sale/leaseback transactions and has worked on transactions as large as 600 properties.
He also focuses on the interdisciplinary practice area defined by the intersection of real estate and communications law, which includes the acquisition, disposition, development, financing and leasing of data centers, switch facilities, colocation facilities, radio and television broadcast antennas, distributed and in-building antenna systems, rooftop antennas, and wiring of buildings for broadband communications access.
In addition, he has extensive experience in the shopping center industry and served as in-house counsel to a major shopping center developer in the acquisition, sales, development, and leasing of numerous shopping center properties.
Stephen has lectured on various issues concerning sale/leasebacks, data centers, ground and office leasing; and on a number of topics regarding shopping center financing, development and leasing.
Experience
Led the structuring and implementation of sale/leasebacks of retail, industrial and medical office building properties. Our firm has done more than 50 sale leasebacks for CVS, alone, and Stephen has also done sale/leasebacks for a number of other clients, including transactions involving individual and multi-site data centers, industrial properties, chains of gas station/convenience stores and medical office buildings.
Represented a New York real estate development firm in the development of a three tower luxury apartment complex in Williamsburg, Brooklyn and in a $330,000,000 construction loan.
Represented a client in the purchase of a shopping center in Las Vegas, involving five separate purchasers, three of which had identified this property as replacement properties in 1031 exchanges. This transaction involved structuring a tenancy in common agreement among the parties, a management structure below that, a complex lending structure including separate loans to both the fee owner and to the ground lessor under an existing ground lease which tenants-in-common also acquired, to yield higher loan proceeds.
Represented a large national retailer in the developments of two 800,000 square-foot distribution centers (one in upstate New York and the other in Kansas City, Missouri), including acquisitions of the properties, structuring and obtaining public-private partnership incentives and creating opportunities for future sale/leasebacks of the properties.
Represented a major real estate investment fund client in the structuring of a program to split several of its office buildings into fee and ground lease estates and selling the improvements to the buyer and entering into 99 year ground leases with the buyer; and the subsequent completion of three transactions, to date, for such client.
Represented a client in the opportunistic sale of its headquarters building in a bidding war between two potential buyers, the buyout of tenants, a 3 year extension of the closing date to accommodate the ultimate purchaser's development and financing of its proposed project (which led to a significant increase in the purchase price), structuring the financing by our client of low income inclusionary zoning credits that were acquired by the purchaser (which was repaid at the closing of the sale), setting up and implementing a 1031 tax deferred exchange at the closing and representing our client in the acquisition of a newly developed, luxury apartment building, as a replacement property.
Represented a Fortune 500 financial services firm in the sale and partial leaseback of two of its key data centers.
Represented a client in the acquisition of a data center in Toronto that included a partial leaseback to the seller, in a joint venture with a major real estate investment firm.  This transaction also included complex tax structuring for the U.S.-based client and its investor.
Represented a client in the redevelopment and lease-up of an existing industrial property as a datacenter, including the financing of the construction, obtaining government incentives for the development and coordination of the sale of a joint venture interest in the property to a major real estate investment firm.
Represented a client in the lease-up and sale of a majority interest in an existing datacenter in Cheyenne, Wyoming to a real estate investor, in which our client remained the managing member of the facility through a joint venture with the purchaser.
Represented a client in a programmatic joint venture including 8 data center properties and the subsequent leasing and re-development of the data centers.
Represented a client in the purchase of an historic property in Chicago for development as a datacenter, including satisfying the requirements of the joint venture partner in the purchasing entity.
Represented a real estate investment firm in the acquisition of two large parcels of land in Westchester County, New York and the subsequent development of them as a shopping center and a mixed use, retail/office property, respectively.  This representation also included the lease-up and financing of each property.
Represented a value-added real estate investment firm in the creation of four real estate funds and the subsequent acquisitions, lease-up and financings of numerous properties for such funds.
Read less
Recognition & Awards
Included on the New York Super Lawyers: Real Estate list (2007, 2011 – 2019)
Martindale-Hubbell AV Preeminent
Featured in Best Lawyers in America, Real Estate Law (2024)
Read less