Today's Workplace Is Yesterday's Coffee Shop
Our workplace is everywhere these days — making employment and privacy compliance even more challenging. Is your business up to date on recent statutory developments and mobile device regulations? Have you accounted for social media's impact on workplace privacy, recruiting, and hiring? What about your workplace policies and employee recordkeeping practices — are they in compliance with recent legal developments? Our team of privacy and employment professionals answers questions like these on a daily basis. 
Share
Awards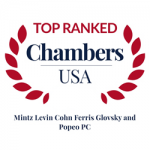 Chambers USA
Privacy and Security Chair recognized
Chambers Global
Privacy & Security Practice Recognized
Our Approach
The digital age and globalization of the workforce have created new and numerous challenges for employers. Our attorneys assist clients with drafting and updating workplace privacy policies, including internal privacy and acceptable use policies and "bring your own device" or BYOD policies. We also advise on multinational workplace privacy and data transfer issues. And we help implement workplace training programs. In addition, we focus on employee privacy issues in the context of recordkeeping and in processing family and medical leave requests. And when employee information is being transferred to the United States from other countries, we work to assist global employers in navigating the regulations and technologies used in the global workplace.
Blogs
Thought leadership delivered via Privacy & Security Matters and Employment Matters blogs 
International Know-How
In-depth familiarity with the EU Data Protection Directive and requirements in EU member states and other international jurisdictions 
Meet Mintz
Our knowledgeable, tech-savvy team can help keep your business up to date with statutory developments and regulations. 
Member / Chair, Employment, Labor & Benefits Practice
Member
New York, San Diego
+1.858.314.1550
Member / Chair, Privacy & Cybersecurity Practice