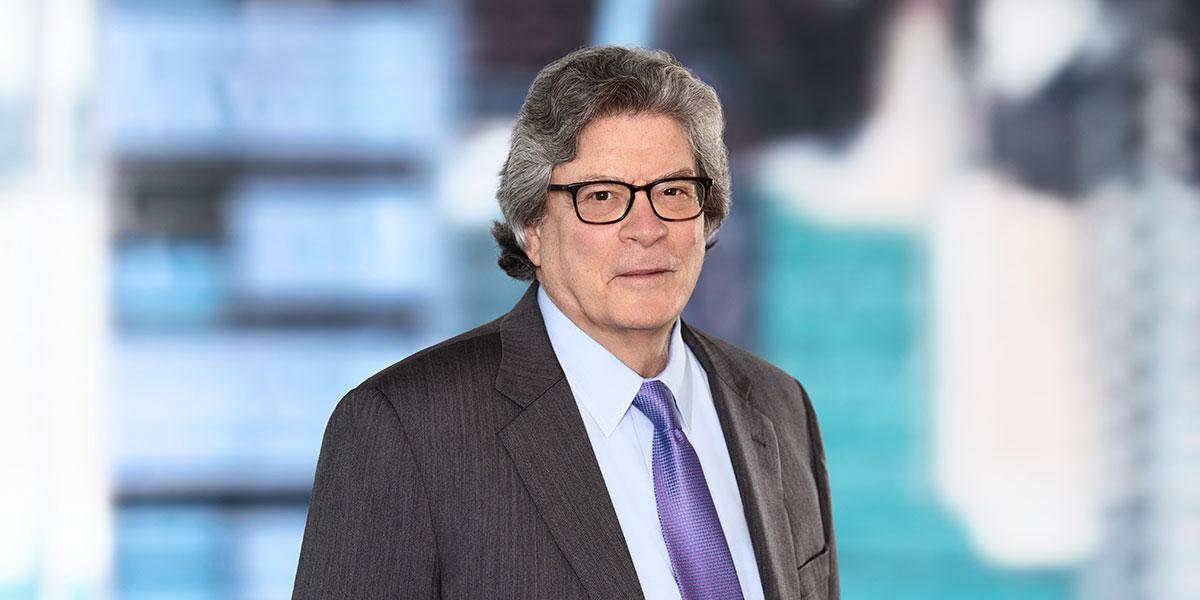 Barry is a nationally recognized litigator with extensive experience handling white collar criminal cases and complex civil matters. He has successfully defended prominent corporations, financial institutions, political figures, corporate executives, professionals, and leading law firms in a wide variety of high-profile and complex cases, jury trials, regulatory actions, and investigations. Barry also has an active trial and appellate practice.
Barry represents clients in high-stakes matters pertaining to securities and commodities litigation and regulatory enforcement, other forms of financial fraud, antitrust litigation, and allegations of environmental rule violations. He frequently represents clients in parallel enforcement proceedings involving the US Department of Justice, the Securities and Exchange Commission, and the Commodity Futures Trading Commission. He also conducts corporate internal investigations and counsels the individuals involved in them.
Barry has won appeals at all levels of the federal and state court systems nationwide – acquiring a remarkable track record and a unique depth and breadth of experience.  Esteemed as an exceptional strategist, he is often brought in to assist other legal teams in high-stakes appellate cases. His achievements as a leading litigator, white collar criminal defense attorney, and investigations lawyer have been recognized in publications including Benchmark Litigation: The Definitive Guide to America's Leading Litigation Firms and Attorneys, The Best Lawyers in America, Chambers USA, Expert Guide to the Best of the Best USA, Expert Guide to the World's Leading White Collar Crime Lawyers, The Legal 500 US, New York's Best Lawyers, New York Super Lawyers, Who's Who Legal: Business Crime Defense and Who's Who Legal: Investigations. In 2014, Barry received The Norman S. Ostrow Award from the New York Council of Defense Lawyers in recognition of his outstanding contributions as a defense lawyer.
Prior to joining Mintz, Barry was a partner at a midsize law firm in New York, where he co-chaired the White Collar Defense & Government Investigations Group. Earlier he was a partner with a boutique litigation law firm. He also served as Assistant US Attorney, Chief Appellate Attorney, and Chief of the Major Crimes Unit for the Southern District of New York. In addition, Barry taught at Fordham University School of Law as an adjunct associate professor.
Barry frequently writes and is invited to speak on topics relating to trial and appellate practice, securities enforcement and arbitration, internal investigations, and insider trading. He authored the New York Law Journal's "White Collar Crime" column from 2002 to 2013, is a co-author of White Collar Crime: Business and Regulatory Offenses (ALM Law Journal Press), and serves on the advisory boards of Bloomberg BNA's The Criminal Law Reporter and White Collar Crime Report.
Barry is a fellow of the American College of Trial Lawyers, former President of the New York Council of Defense Lawyers, and Chair of the Board of Directors of the Fund for Modern Courts and Committee for Modern Courts, nonprofit organizations dedicated to judicial reform in New York State. He is a member of the Board of Directors of the Legal Aid Society (former chairman of the Audit Committee) and received awards in 2005 and 2006 for Outstanding Pro Bono Service for his advocacy. He is also a member of the New York City Bar Association (former member of the Criminal Law Committee) and the New York State and American Bar Associations (Criminal Justice and Litigation Sections).
Education
New York University School of Law (JD)
Duke University (BA)
Recognition & Awards
Listed as a leading white collar defense lawyer in many publications, including: 

Benchmark Litigation: The Definitive Guide to America's Leading Litigation Firms and Attorneys
The Best Lawyers in America
Chambers USA
Expert Guide to the Best of the Best USA (White Collar Crime)
Expert Guide to the World's Leading White Collar Crime Lawyers
Who's Who Legal: Business Crime Defense
Who's Who Legal: Investigations 
The Legal 500 United States
New York's Best Lawyers
New York Super Lawyers
Top 100 New York Super Lawyers

New York Council of Defense Lawyers: Norman S. Ostrow Award (2014)
Legal Aid Society: Award for Outstanding Pro Bono Service (2005, 2006)
Law360: Profiled in a "Trial Pros" Q&A series on highly successful trial lawyers (2016)
Involvement
Fellow, American College of Trial Lawyers
Member of the Advisory Boards for Bloomberg BNA's The Criminal Law Reporter and White Collar Crime Report
Chair, Board of Directors, The Fund for Modern Courts and The Committee for Modern Courts (nonprofit organizations dedicated to judicial reform in New York State)
Member, Board of Directors, Legal Aid Society (Past Chairman, Audit Committee; Past Member, Board of Advisors)
Past President, New York Council of Defense Lawyers
Member, American Bar Association (Criminal Justice and Litigation Sections)
Member, New York City Bar Association (Past Member, Criminal Law Committee)
Member, New York State Bar Association (Criminal Justice and Litigation Sections)
Recent Insights
Brochures
Author, Pandemic Preparation: 72-Hour Response Plan to Government Inquiry, LexisNexis Practical Guidance, October 2020; republished in the Harvard Law School Forum on Corporate Governance (11.2.2020)
Author, A General Counsel's Guide to Preparing for Coronavirus Investigations, Bloomberg Law (May 2020)
Co-author, Extraterritorial Regulatory and Criminal Enforcement, The International Comparative Legal Guide to: Business Crime 2018
Publications
Author, Pandemic Preparation: 72-Hour Response Plan to Government Inquiry, LexisNexis Practical Guidance, October 2020; republished in the Harvard Law School Forum on Corporate Governance (11.2.2020)
Author, A General Counsel's Guide to Preparing for Coronavirus Investigations, Bloomberg Law (May 2020)
Co-author, Extraterritorial Regulatory and Criminal Enforcement, The International Comparative Legal Guide to: Business Crime 2018