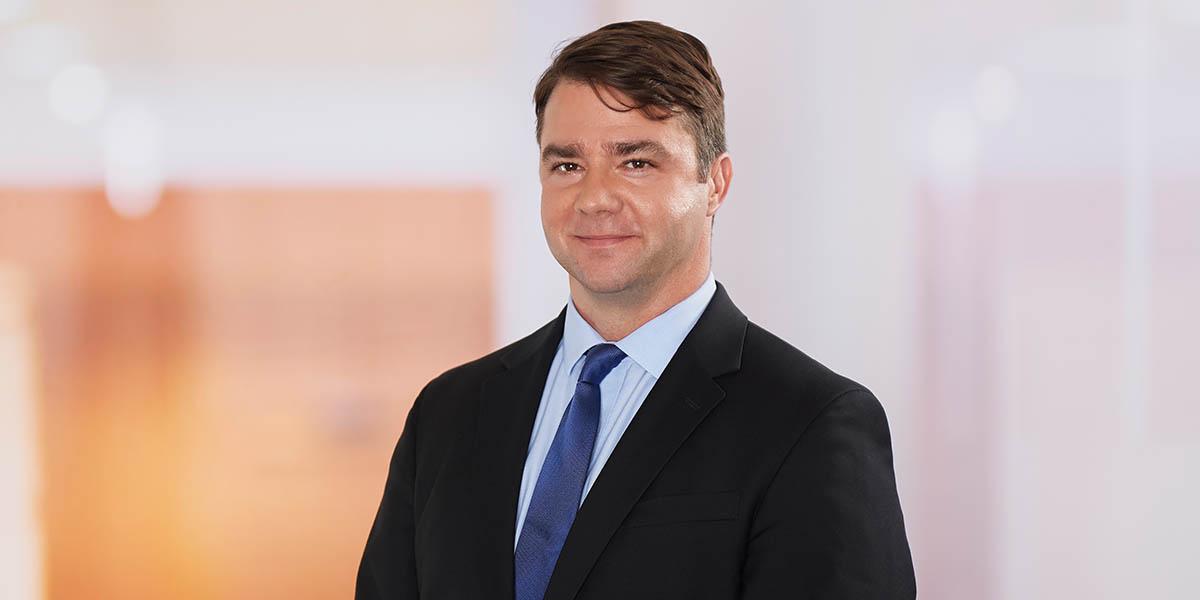 Sean focuses his intellectual property practice on patent litigation, strategic IP counseling, and patent valuation.  He has experience representing clients before the International Trade Commission (ITC), Federal district courts, and the Patent Trial and Appeal Board.  Sean draws on his background in computer science and software development to advise clients across the technology sector.  His practice covers a range of technologies including microprocessors, graphics processors, RF circuitry, consumer telecommunication systems, semiconductors, parking meters, drones, software, and flocked swabs.
Sean has held multiple roles in ITC investigations and Federal district court cases where he is relied upon by trial team leaders for developing infringement, validity, and claim construction positions in cases involving global high tech companies.  Additionally, he has served as counsel and liaison in multiple inter partes review and post-grant proceedings, where he developed and coordinated validity positions for patents being simultaneously asserted in multiple jurisdictions.
Sean's practice is complemented by years of industry experience.  Before joining Mintz, Sean was a software engineer for a defense contractor where he specialized in distributed systems designed to find radio-based targets with direction finding and geolocation techniques and with low-level hardware devices and wireless communication protocols.  Before that, for his graduate work, Sean conducted research at the University of Massachusetts at Lowell focusing on wireless sensor networks.
Experience
International Trade Commission
Certain Flocked Swabs, Products Containing Flocked Swabs, And Methods of Using Same (337-TA-1279) - Representing Copan Italia and Copan Industries as complainants in the International Trade Commission, asserting patent infringement claims against global competitors in a case involving the use of flocking technology (common in the textile industry) in the production of biological specimen collection swabs. Evidentiary hearing is scheduled for June 2022.
Certain Semiconductor Devices, Products Containing the Same, and Components Thereof (II) (337-TA-1177) - Represented GlobalFoundries at the International Trade Commission and in multiple Western District of Texas actions, involving the direct and indirect infringement of four patents related to semiconductor devices, integrated circuits, and products containing the same. Additional defendants in these actions included Apple, Broadcom, Cisco, nVidia, Arista, Asus, and Lenovo. Within 2.5 months of filing at the ITC, the cases settled on favorable terms.
Certain Semiconductor Devices, Integrated Circuits, and Consumer Products Containing the Same (337-TA-1149) – Mintz represented Innovative Foundry Technologies as part of a global enforcement strategy to protect 5 asserted patents relating to semiconductor fabrication and packaging. Respondents for the ITC matter included Taiwan Semiconductor Manufacturing Company, Qualcomm Incorporated, MediaTek, and Vizio. Cases were simultaneously filed in U.S. District Court and internationally in Germany and China. The investigation was instituted in March of 2019 and resolved favorably prior to the conclusion of discovery in August of 2019.
Certain Graphics Systems, Components Thereof, and Consumer Products Containing the Same (337-TA-1044) – Represented Advanced Micro Devices (AMD) as complainant in the ITC asserting patents covering graphics processing technology employed by smart devices such as televisions and handsets. Respondents include LG Electronics, VIZIO, MediaTek, and Sigma Designs, Inc. (SDI). Achieved settlement with LG prior to the conclusion of expert discovery. Following the evidentiary hearing, the presiding ALJ issued an initial determination finding a violation of Section 337 and recommending the imposition of an exclusion order against the remaining Respondents' accused products. The ITC affirmed the ALJ's finding of a violation on August 22, 2018. As a result, the Commission issued orders banning the importation of products made by VIZIO, MediaTek, and SDI and cease and desist orders against VIZIO and SDI.
Certain Communications or Computing Devices and Components Thereof (337-TA-925) – Represented owner of portfolio of communications and computing patents from former enterprise communications business unit of large multinational innovation company, Enterprise System Technologies, S.A.R.L. An ITC investigation was instituted in August 2014 as to respondent entities Apple, Samsung Electronics, LG Electronics and HTC Corporation. Google participated as an intervenor. The investigation resolved prior to evidentiary hearing in June of 2015.
Certain Point-to-Point Network Communication Devices and Products Containing Same (337-TA-892) - Representing complainant in 3-patent litigation involving streaming media technology at the International Trade Commission and in parallel case in the Eastern District of Texas. Respondents/defendants include some of the most recognized global electronics manufacturers, a number of which have settled resulting in the closing of the ITC case.
Federal District Court
Parus Holdings Inc. v. Apple, Inc. et al, 6:19-cv-00432, -00433, -00438, -00437, -00454 (W.D.Tex.)- Represent plaintiff in a patent infringement case involving robust voice browser system and voice activated device controller.
IPS Group, Inc. v. Civicsmart, Inc., et al (SDCA 3:17-cv-632) – Defended Civicsmart and Duncan Parking against allegations of infringement of multiple patents involving wireless parking meters. Case settled following a favorable Markman ruling from the court.
Inter Partes Reviews
Represented Parus Holdings in defense of inter partes reviews filed by Apple Inc. as part of its response to enforcement litigation brought by Parus in the Western District of Texas. The two challenged patents relate to robust voice browser system and voice activated device controller. Following oral hearing, PTAB rejected Apple's attempt to invalidate Parus's patent claims. (IPR2020-00686, -00687)
Successfully represented Shopify as petitioner to invalidate claims of three patents related to characteristics of e-commerce platforms asserted by DDR in the District of Delaware. Mintz then briefed and argued the issues before the Federal Circuit which affirmed the PTAB's invalidity findings. (IPR2018-01011, -01012, -01014)
Read less