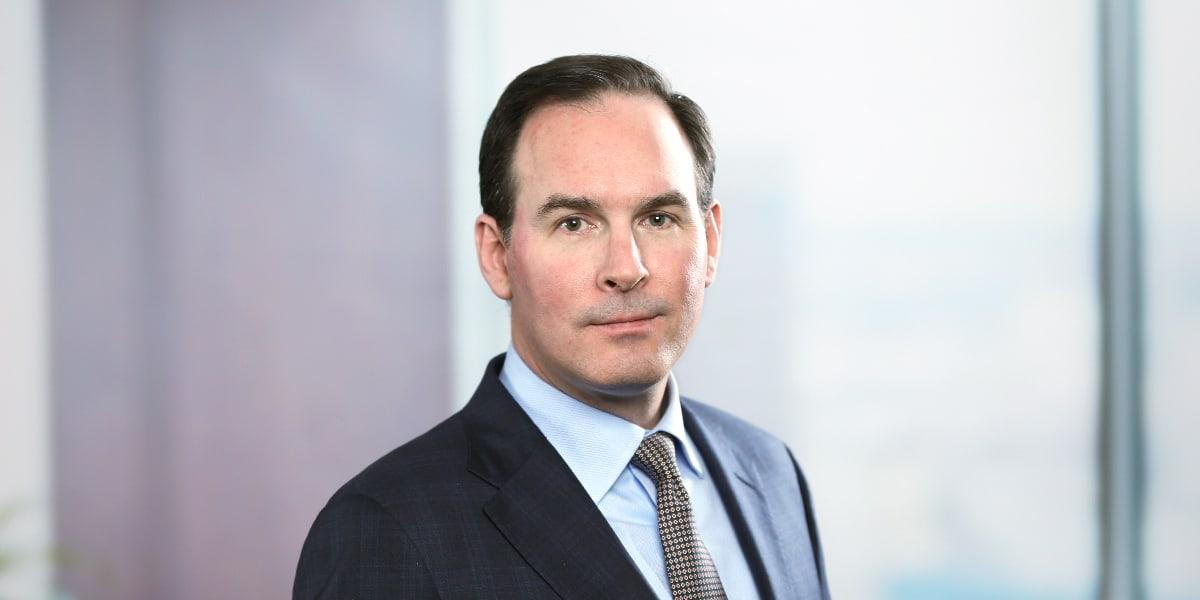 Michael represents companies in complex intellectual property disputes, with a particular focus on Section 337 investigations before the US International Trade Commission (ITC). His experience spans from pre-litigation investigation and litigation, to appeals before the Court of Appeals for the Federal Circuit. In addition, Michael has had extraordinary success representing patent owners in inter partes review proceedings before the Patent Trial and Appeals Board (PTAB).
Michael represents a broad range of clients in cases involving such diverse technologies as integrated circuits, light emitting diodes (LEDs), carbohydrate chemistry, smartphones, video compression, semiconductor fabrication and packaging, gene expression, microprocessors (CPUs and GPUs), digital signal processors, RDIMM and LRDIMM memory modules, networking equipment, cellular communications, voice over internet protocol (VoIP), genetically engineered bacteria, medical devices, and information systems.
Michael's practice is focused on his work with the US International Trade Commission (USITC). His cases in federal courts also include patents, trade secrets, and other intellectual property matters. The areas of technology in which Michael has particular experience include biochemistry, biotechnology, chemistry, computer software, mechanical devices, medical devices, semiconductors, and converged devices.
Before joining Mintz, Michael worked with the law firms Pepper Hamilton LLP and Fish & Richardson PC. He has also worked as a software engineer and has conducted biochemical research at Harvard Medical School.
Education
University of Virginia (JD)
Saint Anselm College (BA, Biochemistry)
Experience
Federal Circuit Appeals
Preservation Wellness Technologies LLC v. NextGen Healthcare Information Systems LLC, et al, 2016-2193, 2016-2194, 2016-2195 (Fed. Cir.) - Successfully argued at the Court of Appeals for the Federal Circuit to affirm an Eastern District of Texas ruling from May 2016 that held unpatentable a medical records patent asserted by Preservation Wellness against long-time client NextGen Healthcare. Mintz also argued on behalf of co-appellees Allscripts Healthcare Solutions Inc. and Epic Systems Corp. NextGen Healthcare provides electronic health record, financial, and health information exchange solutions for myriad healthcare organizations and the infringement allegations threatened "Patient Portal," a key component of the company's service.
Straight Path IP Group, Inc. v. Sipnet EU S.R.O, 2015-1212, (Fed. Cir.) - Represented Straight Path IP in successfully appealing to the Court of Appeals of the Federal Circuit (CAFC) the adverse result of an inter partes review handled by another firm. The IPR decision canceled all challenged claims of Straight Path's US Patent No. 6,108,704. In the Straight Path IP Group, Inc. v. Sipnet EU SRO appeal, the CAFC for the first time completely reversed an adverse IPR decision, remanding the matter for further proceedings under the correct construction advocated by Mintz and Straight Path.
International Trade Commission
Certain Graphics Systems, Components Thereof, and Consumer Products Containing the Same (337-TA-1044) - Represented Advanced Micro Devices (AMD) as complainant in the ITC asserting patents covering graphics processing technology employed by smart devices such as televisions and handsets. Respondents include LG Electronics, VIZIO, MediaTek, and Sigma Designs, Inc. (SDI). Achieved settlement with LG prior to the conclusion of expert discovery. Following the evidentiary hearing, the presiding ALJ issued an initial determination finding a violation of Section 337 and recommending the imposition of an exclusion order against the remaining Respondents' accused products. The ITC affirmed the ALJ's finding of a violation on August 22, 2018. As a result, the Commission issued orders banning the importation of products made by VIZIO, MediaTek, and SDI and cease and desist orders against VIZIO and SDI.
Certain Memory Modules and Components Thereof, and Products Containing Same (337-TA-1089) Represent Complainant Netlist, Inc., a California memory module company, in the ITC asserting six patents against the Korean-based memory company, SK hynix. The technology claimed by the asserted patents is essential to the JEDEC DDR4 RDIMM and LRDIMM standards, which are implemented by the accused imported products. The respondents are asserting novel RAND defenses in the ITC, and in a co-pending case involving the same patents in the District Court for the Central District of California. The ITC evidentiary hearing is scheduled for July 2019.
Defense of Multiple IPRs — Point-to-Point Communication Over Computer Networks Representing Straight Path IP Group in the defense of seventeen inter partes reviews filed against three US patents concerning technology for facilitating point-to-point communications over computer networks. Petitioners include Samsung Electronics Co., Ltd.; Cisco Systems, Inc.; Avaya Inc.; LG Electronics, Inc.; Toshiba Corp.; VIZIO, Inc.; Verizon Communications, Inc.; and Hulu, LLC.
Certain LED Photographic Lighting Devices and Components Thereof (337-TA-804) – Represented the complainant (plaintiff) that makes LED lighting systems for use in film and TV production, at the International Trade Commission. The ITC handed down its Final Initial Determination of infringement on September 7, 2012. On January 17, 2013, the ITC issued a General Exclusion Order (GEO) against respondents based in both China and the United States. The result in this case is particularly notable because it is rare for the ITC to issue a GEO due to the rigorous criteria and careful balancing of interests that apply to requests for GEOs.
Certain Consumer Electronics and Display Devices and Products Containing Same (337-TA-836) - Represented owners of the patent portfolio of the original Silicon Graphics, now known as Graphics Properties Holdings, as complainant in the ITC, and as plaintiff in multiple parallel District of Delaware cases. Cases were filed between late 2011 and early 2012, and all were resolved by the end of January 2013. The technology at issue relates to LCD panels, central processor units, graphics processing units, and other microprocessor technology. Successfully licensed all respondents, including some of the largest and most recognized names in the converged device space – Apple, LG, Research in Motion, Samsung, and Sony.
Certain Consumer Electronics with Display and Processing Capabilities (337-TA-884) - Represented owners of the patent portfolio of the original Silicon Graphics, now known as Graphics Properties Holdings, as complainant in the ITC. Investigation was instituted in June 2013 and among the respondent entities were Panasonic, Toshiba, Vizio, and ZTE. Most respondents settled. After an evidentiary hearing held over several days in May 2014, on August 29, 2014 Mintz successfully obtained a recommendation for a Limited Exclusion Order against the remaining respondent, which chose to settle while Commission review of the Administrative Law Judge's Initial Determination was pending.
Certain Communications or Computing Devices and Components Thereof (337-TA-925) - Represented owner of portfolio of communications and computing patents from former enterprise communications business unit of large multinational innovation company, Enterprise System Technologies, S.A.R.L. An ITC investigation was instituted in August 2014 as to respondent entities Apple, Samsung Electronics, LG Electronics and HTC Corporation. Google participated as an intervenor. The investigation resolved prior to evidentiary hearing in June of 2015.
Certain Computing or Graphics Systems, Components Thereof, and Vehicles Containing Same (337-TA-984) - Represented owner of portfolio of graphics processing and microprocessor patents, Advanced Silicon Technologies, LLC, as Complainant in an ITC investigation adverse to a number of automotive manufacturers, and infotainment system and chip suppliers. Respondents include Honda, Toyota, BMW, Audi, Volkswagen, NVIDIA, Texas Instruments, Renesas, Harman International, and Fujitsu-Ten. The investigation instituted in January of 2016 and resolved favorably prior to the conclusion of expert discovery in August of 2016.
Inter Partes Reviews
Successful Defense of 12 IPRs – Three Dimensional Structure Memory Mintz represented Elm 3DS Innovations in a series of 14 IPRs filed by leading technology companies, including SK Hynix, Micron, and Samsung. We were hired as replacement counsel following institution of the IPRs which had been filed in late 2015 and early 2016. Final Written decisions in the proceedings were received in June and August 2017 and confirmed validity of all but 2 of 107 challenged claims. PTAB's determination was upheld on appeal to the Federal Circuit. IPR2016-00386, IPR2016-00387, IPR2016-00388, IPR2016-00389, IPR2016-00390, IPR2016-00391, IPR2016-00393, IPR2016-00394, IPR2016-00395, IPR2016-00687, IPR2016-00691, IPR2016-00708, IPR2016-00770, IPR2016-00786
Pro Bono
Represented Ugandan client pro bono in application for political asylum in the United States. Client granted political asylum
Represented Tibetan client pro bono through removal proceedings in immigration court. Client granted political asylum
Recognition & Awards
Recognized by The Legal 500 United States for Intellectual Property: Patent Litigation - International Trade Commission (2018)
Included on the Massachusetts Super Lawyers: Rising Star – Intellectual Property Litigation list (2013 - 2016)
Recent Insights
News & Press An article published by Law360 reported that following the U.S. International Trade Commission's initial decision that Jennewein Biotechnologie GmbH's imports infringe a Glycosyn LLC patent on human milk oligosaccharides, the Patent Trial and Appeal Board denied Jennewein's petition for post-grant review of a related patent.

The Mintz team representing Glycosyn at the ITC includes Michael Newman, Thomas Wintner, Michael Renaud and James Wodarski; and the Mintz team representing Glycosyn at the PTAB includes Michael Newman, Thomas Wintner, Peter Cuomo and Daniel Weinger. Law360 featured a Mintz patent litigation team as "Legal Lions" in its weekly list of the top verdicts for its representation of Elm 3DS Innovations, a patent licensing entity.

In a precedential opinion, the Federal Circuit affirmed decisions upholding the validity of nearly a dozen Elm patents on semiconductor technologies that accused infringers challenged at the Patent Trial and Appeal Board.

The Mintz team representing Elm includes Member and Chair of the firm's Intellectual Property Division Michael Renaud, Members William Meunier, James Wodarski and Michael Newman, Special Counsel Sandra Badin, and Associates Kevin Amendt and Matthew Galica.

Events
Speaker
Massachusetts Chapter of the Federal Bar Association
Boston, MA