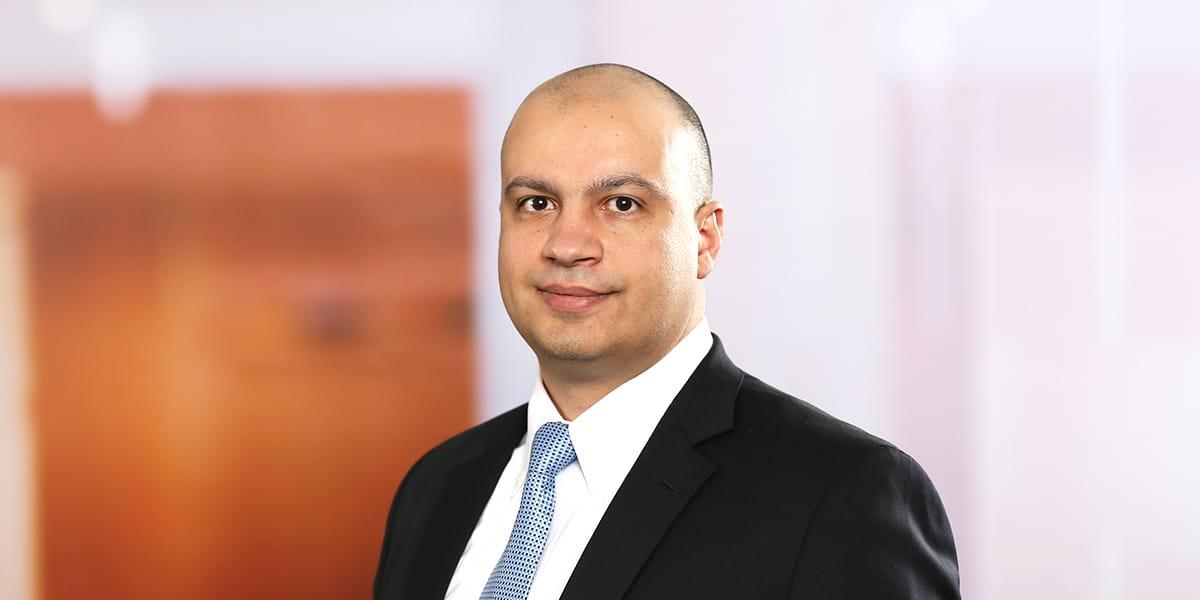 Adam focuses his practice on high tech patent litigation in the International Trade Commission (ITC) and Federal District Courts, patent valuation, and strategic counseling.  In addition to his legal training and graduate studies in electrical engineering, Adam's practice is complemented by years of experience in the industry, in which he served as a principal engineer at BAE Systems before becoming a lawyer.  He has handled various matters involving complex technology such as microprocessors, digital and RF circuitry, LCD display and LED lighting systems, microelectromechanical systems (MEMs), audio and video processing, semiconductor devices and manufacturing, and software.    
In his role as a patent litigator, he has driven multiple ITC investigations to successful outcomes.  Among other things, this involved managing interdisciplinary teams of technologists, expert witnesses, and litigators, coordinating complex discovery, examining witnesses, and oral argument at trial.  Additionally, Adam served as the primary liaison in multiple German enforcement programs, where he worked closely with foreign counsel to develop the strategy for infringement and nullity proceedings.
Prior to joining Mintz, Adam worked with the law firm of Pepper Hamilton LLP.
Education
Suffolk University Law School (JD, summa cum laude)
Northeastern University (MSEE)
New Jersey Institute of Technology (BSEE)
Experience
International Trade Commission
Certain Digital Video-Capable Devices and Components Thereof (337-TA-1224) – Representing Koninklijke Philips N.V. and Philips North America LLC as Complainants before the ITC, and in District of Delaware and Central District of California actions. The asserted patents claim foundational content-protection technology widely implemented in, for example, ultra-high definition digital video-capable devices using the HDCP 2.2. standard, such as computers, displays, and televisions. ITC evidentiary hearing was held in July 2021.
Certain Video Processing Devices, Components Thereof, and Digital Smart Televisions Containing the Same (337-TA-1222) – Representing DivX, a video codec company headquartered in San Diego, in enforcing patents before the ITC, in the District of Delaware and Eastern District of Texas, and in German and Brazilian courts. The asserted patents involve innovations relating to internet video and streaming media. LG and Samsung settled prior to the ITC evidentiary hearing which was held with remaining respondents in July 2021.
Certain Semiconductor Devices, Products Containing the Same, and Components Thereof (II) (337-TA-1177) - Represented GlobalFoundries as lead counsel at the International Trade Commission and in multiple Western District of Texas actions, involving the direct and indirect infringement of four patents related to semiconductor devices, integrated circuits, and products containing the same. Additional defendants in these actions included Apple, Broadcom, Cisco, nVidia, Arista, Asus, and Lenovo. Within 2.5 months of filing at the ITC, the cases settled on favorable terms.
Certain Semiconductor Devices, Integrated Circuits, and Consumer Products Containing the Same (337-TA-1149) – Mintz represented Innovative Foundry Technologies as part of a global enforcement strategy to protect 5 asserted patents relating to semiconductor fabrication and packaging. Respondents for the ITC matter included Taiwan Semiconductor Manufacturing Company, Qualcomm Incorporated, MediaTek, and Vizio. Cases were simultaneously filed in U.S. District Court and internationally in Germany and China. The investigation was instituted in March of 2019 and resolved favorably prior to the conclusion of discovery in August of 2019.
Certain Graphics Systems, Components Thereof, and Consumer Products Containing the Same (337-TA-1044) – Represented Advanced Micro Devices (AMD) as complainant in the ITC asserting patents covering graphics processing technology employed by smart devices such as televisions and handsets. Respondents include LG Electronics, VIZIO, MediaTek, and Sigma Designs, Inc. (SDI). Achieved settlement with LG prior to the conclusion of expert discovery. Following the evidentiary hearing, the presiding ALJ issued an initial determination finding a violation of Section 337 and recommending the imposition of an exclusion order against the remaining Respondents' accused products. The ITC affirmed the ALJ's finding of a violation on August 22, 2018. As a result, the Commission issued orders banning the importation of products made by VIZIO, MediaTek, and SDI and cease and desist orders against VIZIO and SDI.
Certain Computing or Graphics Systems, Components Thereof, and Vehicles Containing Same (337-TA-984) – Represented owner of portfolio of graphics processing and microprocessor patents, Advanced Silicon Technologies, LLC, as Complainant in an ITC investigation adverse to a number of automotive manufacturers, and infotainment system and chip suppliers. Respondents include Honda, Toyota, BMW, Audi, Volkswagen, NVIDIA, Texas Instruments, Renesas, Harman International, and Fujitsu-Ten. The investigation instituted in January of 2016 and resolved favorably prior to the conclusion of expert discovery in August of 2016.
Certain Communications or Computing Devices and Components Thereof (337-TA-925) – Represented owner of portfolio of communications and computing patents from former enterprise communications business unit of large multinational innovation company, Enterprise System Technologies, S.A.R.L. An ITC investigation was instituted in August 2014 as to respondent entities Apple, Samsung Electronics, LG Electronics and HTC Corporation. Google participated as an intervenor. The investigation resolved prior to evidentiary hearing in June of 2015.
Certain Consumer Electronics with Display and Processing Capabilities (337-TA-884) - Represented owners of the patent portfolio of the original Silicon Graphics, now known as Graphics Properties Holdings, as complainant in the ITC. Investigation was instituted in June 2013 and among the respondent entities were Panasonic, Toshiba, Vizio, and ZTE. Most respondents settled. After an evidentiary hearing held over several days in May 2014, on August 29, 2014 Mintz successfully obtained a recommendation for a Limited Exclusion Order against the remaining respondent, which chose to settle while Commission review of the Administrative Law Judge's Initial Determination was pending.
Certain Consumer Electronics and Display Devices and Products Containing Same (337-TA-836) - Represented owners of the patent portfolio of the original Silicon Graphics, now known as Graphics Properties Holdings, as complainant in the ITC, and as plaintiff in multiple parallel District of Delaware cases. Cases were filed between late 2011 and early 2012, and all were resolved by the end of January 2013. The technology at issue relates to LCD panels, central processor units, graphics processing units, and other microprocessor technology. Successfully licensed all respondents, including some of the largest and most recognized names in the converged device space – Apple, LG, Research in Motion, Samsung, and Sony.
Certain LED Photographic Lighting Devices and Components Thereof (337-TA-804) – Represented the complainant (plaintiff) that makes LED lighting systems for use in film and TV production, at the International Trade Commission. The ITC handed down its Final Initial Determination of infringement on September 7, 2012. On January 17, 2013, the ITC issued a General Exclusion Order (GEO) against respondents based in both China and the United States. The result in this case is particularly notable because it is rare for the ITC to issue a GEO due to the rigorous criteria and careful balancing of interests that apply to requests for GEOs.
Federal District Court
Innovative Foundry Technologies LLC v. Semiconductor Manufacturing International Corporation, et al. (W.D. Tex, 6:19-cv-00719) - Representing Plaintiff in an infringement case involving semiconductor devices and fabrication of semiconductor devices.
MEI, Inc. v. JCM American Corp., et al (DNJ 1:09-cv-351) – Represented a bill validator supplier adverse to its principal competitor in the Federal District of New Jersey and in the Court of Appeals for the Federal Circuit regarding patents directed to antifraud technology.
Recent Insights
News & Press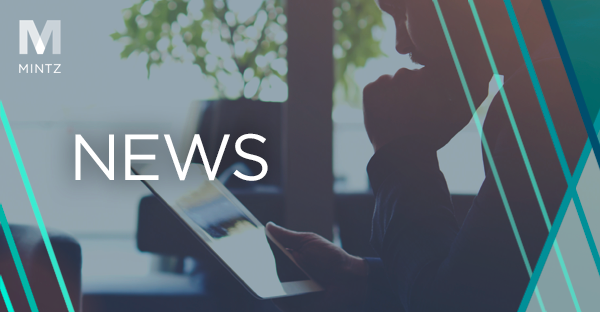 Law360 reported that Mintz client American video codec company DivX, an early innovator in the digital streaming video and digital rights management scene, has reached confidential settlements with LG and Samsung, resolving international litigation claiming they infringe DivX's streaming patents with their smart televisions. The Mintz team representing DivX is led by Member and Chair of the firm's Intellectual Property Division Michael Renaud and Member Adam Rizk and includes Member and Chair of the firm's Intellectual Property Litigation Practice Matthew Hurley, Members Keith Carroll, Marguerite McConihe, Michael McNamara, Samuel Davenport, and Daniel Weinger, and Associates Matthew Karambelas, Jessica Perry, and Nana Liu. IP Division Head Michael Renaud, Member Aarti Shah, and Associate Adam Rizk authored this Financier Worldwide article discussing the ITC's statement that it will treat standard-essential patents the same way it treats all other patents asserted in a Section 337 investigation.