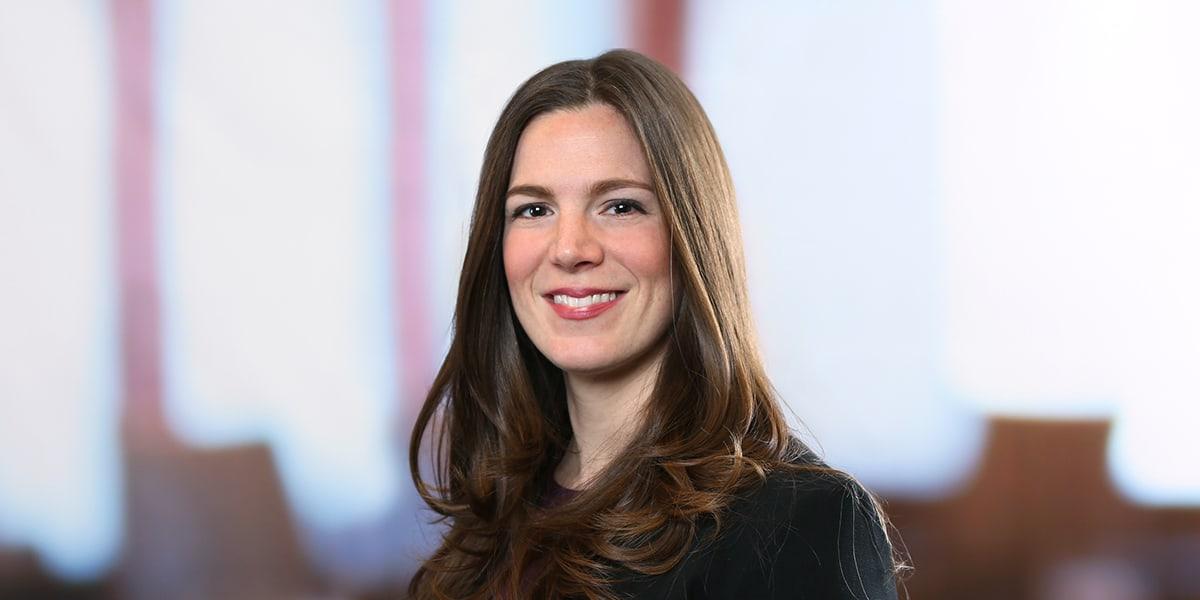 Mathilda's practice focuses on complex commercial litigation and arbitration across a variety of areas and industries. Mathilda regularly advises clients in all stages of dispute resolution, from pre-litigation counseling and investigation through discovery, dispositive motion practice, trial, and appeals. She has experience taking and defending depositions, arguing motions, and serving as second-chair in a high-profile trial.  Through strategic discovery, well-researched briefing, and effective oral advocacy, she has repeatedly won cases at the summary judgment stage. 

Mathilda has particular experience defending against class action claims arising under state consumer protection laws, with a particular focus in class actions brought against landlords by residential tenants; defending insurance companies in coverage disputes; advising on legal issues related to higher education; representing beneficiaries and trustees in trust, estate, and probate disputes; and drafting appellate briefs on behalf of litigants and amici curiae.  Mathilda utilizes this broad base of substantive knowledge and understanding of the lifecycle of litigation to provide clients with strategic advice tailored to their individualized needs and goals.

For clients in the education sector, Mathilda draws on her broad experience in the industry, including as a former legal intern at the United States Department of Education's Office for Civil Rights, an Education Pioneers Fellow, and, prior to law school, an administrator at Columbia University, where she developed university policies and communications. Mathilda has leveraged this experience to advise clients on compliance with federal education laws such as the Family Educational Rights and Privacy Act (FERPA) and aid clients in navigating Title IX investigations on campus, among other ways.

Mathilda also has an active pro bono practice, with a particular focus on immigration issues, for which she was awarded Mintz's Pro Bono Award. In 2017, she helped an immigrant secure release from ICE custody after nearly a year of detention on a petition for a writ of habeas corpus in federal court. She has assisted Lawyers for Civil Rights file briefs of amici curiae in seminal cases involving affirmative action and the inclusion of a citizenship question on the U.S. census before the U.S. Supreme Court, and partnered with the American Civil Liberties Union of Massachusetts on a seminal case that shifted the burden of proof in bond hearings for certain immigrants detained during removal proceedings.

Prior to joining the firm, Mathilda served as a judicial law clerk, first to the Honorable Robert J. Cordy of the Massachusetts Supreme Judicial Court, and then to the Honorable Douglas P. Woodlock of the United States District Court for the District of Massachusetts. During law school, Mathilda was editor-in-chief of the Boston College Law Review and a student attorney in the Boston College Legal Assistance Bureau.
 
Education
Boston College (JD, magna cum laude)
Columbia University (MA)
Oberlin College (BA)
Experience
• Regularly represents clients in trust and estate disputes in Massachusetts Probate Court, including trust beneficiaries and trustees.
• Part of a team defending a parent-defendant in the Varsity Blues college admissions prosecution in the District of Massachusetts.
• Defeated a motion for class certification and obtained summary judgment on claims brought by a putative class of tenants of a residential realty company asserting violations of the Massachusetts utility submetering laws and the Massachusetts consumer protection act, chapter 93A.
• Obtained summary judgment on behalf of a class of immigrants subject to discretionary ICE detention in a seminal case in the District of Massachusetts that shifted the burden of proof in bond hearings in the Immigration Court, Pereira Brito et al. v. Barr et al.
• Obtained dismissal of a complex counterclaim asserting violations of the Racketeer Influenced and Corrupt Organizations Act ("RICO") in federal district court.
• Drafted briefs of amici curiae for a variety of appellate matters, including in cases before the United States Supreme Court and the Massachusetts Supreme Judicial Court.
• Defended an insurance holding company against alleged bad faith claims brought under M.G.L. chs. 93A/176D in connection with its handling and adjusting of a wrongful death claim.
• Represented a limited liability company in complex commercial litigation in the Delaware Court of Chancery relating to claims concerning contractual interpretation and fiduciary duties.
• Obtained voluntary dismissal of a consumer class action involving unsolicited text messages under the Telephone Consumer Protection Act (TCPA).
• Obtained a favorable arbitration award in California in a dispute over an oral joint venture to open and operate a garment manufacturing facility in China.
• Part of a team that obtained complete dismissal of a breach of contract and antitrust complaint in federal district court.
Recognition & Awards
Best Lawyers in America "Ones to Watch": Commercial Litigation (2021) 
Best Lawyers in America "Ones to Watch": Mass Tort Litigation / Class Actions - Defendants (2021) 
Richard Mintz Pro Bono Award (2019)
Lawyers for Civil Rights, Pro Bono Award (2016 and 2019)
Order of the Coif
McGrath & Kane Award, Boston College Law School (2013)
Involvement
Member, Boston Bar Association Civil Rights & Civil Liberties Section Steering Committee
Board Member, Lawyers for Civil Rights (2020-present)
Gubernatorial Appointee, Metropolitan Area Planning Council (2018 – present)
Member, Supreme Judicial Court Law Clerks' Society Governing Board (2015 - present)
Member, Boston Bar Association Public Interest Leadership Program, Class of 2019 - 2020
Vice Chair and Board Member, Apprentice Learning (2016 – 2019)
At-Large Member, Oberlin College Alumni Leadership Council (2016 – 2019)
Member, ONEin3 Advisory Council to Mayor Thomas M. Menino (2013 - 2014)
Member, Executive Board & Nominations Committee, Oberlin Alumni Association (2011 - 2014)
Class Trustee, Oberlin College (2007 - 2010)
Events
Panelist