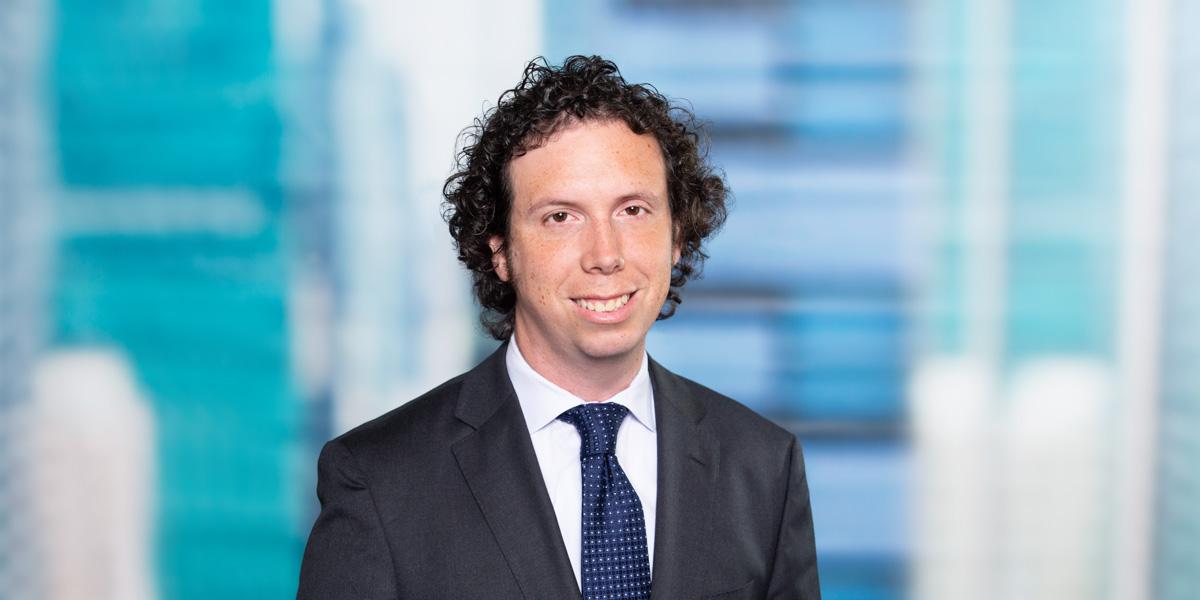 Scott has a robust complex commercial litigation practice and has consistently achieved successful litigation results for clients in fields including finance, employment, communications, antitrust, insurance, and gaming law. Scott also has significant experience advising clients on regulatory matters in these areas.
Prior to joining Mintz, Scott worked at Sullivan & Cromwell LLP where his experience included successfully working on a number of high-profile civil litigations and regulatory investigations.
Scott graduated magna cum laude from Columbia College, Columbia University, where he placed on the dean's list every semester. Scott received his JD from Columbia University School of Law, where he was a Harlan Fiske Stone Scholar and member of the Columbia Journal of Transnational Law. Scott clerked in 2009 - 2010 for the Honorable William H. Walls, US District Court for the District of New Jersey.
Education
Columbia University (JD)
Columbia University (BA, magna cum laude)
Experience
Financial Institutions/Securities
Represented a senior, long time investment bank executive who was at the center of the bank's conduct during the subprime crisis.
Represented private equity placement firm in arbitration with buy-out firm regarding payment of placement agent fee.
Represented leading global asset management company and senior director of company defending against claims of breach of contract, tortious interference, and civil conspiracy.
Represented fund manager of a Shariah-compliant real estate fund in civil litigation and SEC investigation relating to the fees paid to the fund manager.
Represented major financial institution in multi-agency cross-border criminal and regulatory investigation.
Represented aircraft manufacturer in securities class action.
General Commercial Litigation
Secured a rare, complete dismissal of an ADA lawsuit on behalf of BDG Media Inc. d/b/a Elite Daily, which alleged that the company lacked a closed caption option on the website's videos.
Represented a manufacturer of cleaning devices for continuous positive airway pressure (CPAP) machines in a false advertising suit brought in the Southern District of New York by a multinational competitor which dealt with complex Lanham Act claims.
Represented reality television star in breach of contract and copyright litigation.
Represented apparel company in putative class action relating to alleged product defects.
Represented regional bus company in dispute regarding access to fuel tanks on leased property.
Communications
Represented cable broadband provider in civil litigation against competitor concerning payment of invoiced rates for VoIP traffic.
Represented cable operator in administrative proceeding regarding program carriage dispute.
Represented cable operators in FCC Enforcement Bureau inquiries.
Gaming
Advised client on various issues involving fantasy sports wagering.
Represented sports bettor in alleged unlawful gambling and money laundering federal prosecution.
Represented an individual in an alleged sports gambling operation in a case where the government accused the group of running an illegal bookmaking operation, money laundering, and other activities.
Representing a senior executive of a publicly-traded global gaming (including sports betting) enterprise in connection with multi-country securities inquiries and class actions alleging stock manipulation.
Insurance
Advised real estate management companies regarding insurance and indemnification provisions in lease agreements.
Represented insurance carrier in high profile litigation matters related to Hurricane Sandy including several RICO actions and a New York State Department of Financial Services investigation.
Represented insured in a D&O coverage action.
Represented insured in a declaratory judgment action arising out of no-fault insurance claims.
Advised insurer on regulatory issues relating to the National Flood Insurance Program.
Antitrust
Represented multinational computer technology company in cutting-edge antitrust litigation.
Represented bank in antitrust review in connection with merger. 
Employment
Conducted confidential internal investigations for numerous companies in multiple industries in connection with allegations of employee misconduct, including alleged violations of internal conflict of interest policies and potential violations of state and federal law.
Represented private equity firm in arbitration against former employees involving claims of breach of fiduciary duties, breach of contract, fraud, and other alleged wrongful conduct.
Represented healthcare company in litigation against former employee involving claims of wrongful theft of confidential information and breach of non-competition and non-solicitation restrictive covenants.
Recognition & Awards
New York Super Lawyers: Rising Star - Business Litigation (2014 - 2016)
Metropolitan Council on Jewish Poverty, February 2014 Volunteer of the Month
Involvement
Providing pro bono legal guidance to two organizations on matters of labor and employment law
Member, Metropolitan Council on Jewish Poverty, Young Leadership (MVP) Committee
Recent Insights
News & Press This Law360 "Expert Analysis" column discusses how federal gambling laws interact with and are likely to be affected by changes in state gambling laws arising out of the U.S. Supreme Court's decision in Murphy v. National Collegiate Athletic Association. Sixteen Mintz attorneys have been named New York Super Lawyers for 2016 and twelve have been named New York Rising Stars. The list will be published in a special advertising supplement in The New York Times Magazine and in a stand-alone magazine, New York Super Lawyers - Metro Edition. Mintz attorneys successfully represented adidas America Inc. in arguing against certification of a class action suit involving one of the company's popular running shoes. The U.S. District Judge ruled the plaintiff did not present sufficient evidence that adidas' Springblade shoes were defective.