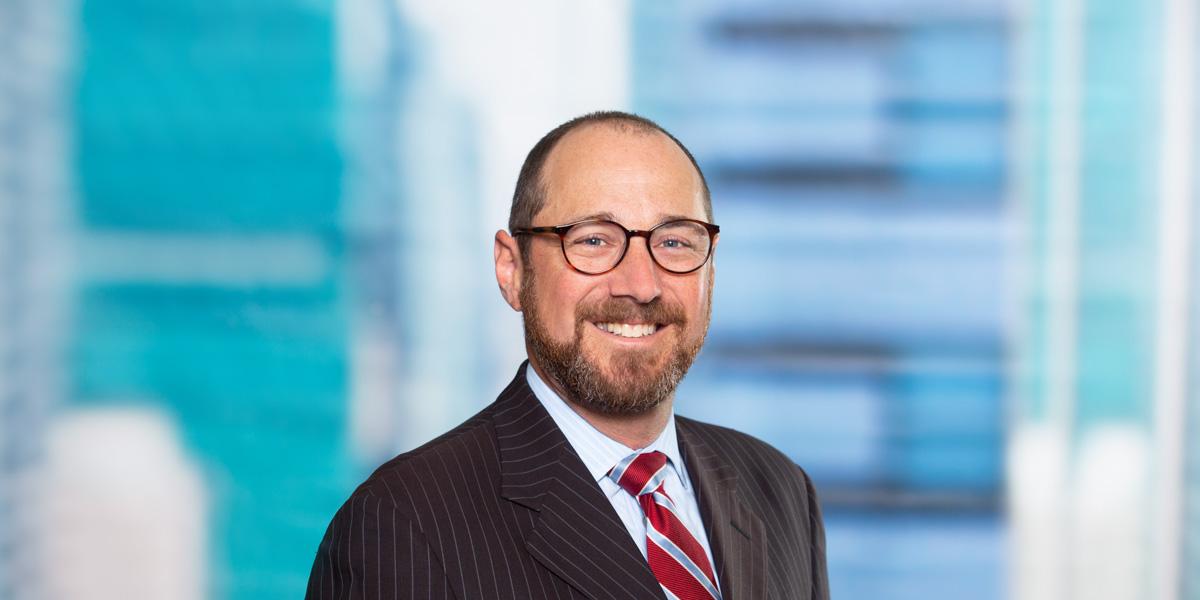 David is a white collar defense attorney and trial litigator who counsels companies, executives, and high-level professionals in complex business investigations, government enforcement actions and related criminal and civil cases.  He has successfully represented clients in the financial services sector and other industries in courts and before the DOJ, SEC, FINRA, and Commodity Futures Trading Commission (CFTC), as well as state regulatory agencies and grand juries.  In his 26 years of practice, he has tried 20 federal criminal and civil cases, almost all to juries that returned verdicts.  He has received accolades from multiple national publications, including being named American Lawyer Litigation Daily's Lawyer of the Week; a Law 360 "Legal Lion;" a Law 360 "MVP" for White Collar/Enforcement 2017 (one of six lawyers nationwide to receive the honor); and to the National Law Journal's list of White Collar/Regulatory & Compliance Trailblazers (2018).
Because of the highly sensitive, typically confidential nature of his practice, most of David's greatest successes are never publicly reported.  David's focus, whenever possible, is on strategic, early efforts to persuade government and regulatory authorities not to file any charges at all against his clients.  He has successfully headed off potential enforcement actions against business leaders in a broad range of industries, including all varieties of financial services (securities and commodities trading and sales, banking, investment entities, and hedge funds), automobile manufacturing and sales, professional sports agency, pharmaceuticals and high technology. Areas of his focus, both inside and out of government, have included securities and bank fraud, tax and insurance fraud, cybercrime, data security, international anti-corruption law (including FCPA), along with Bank Secrecy Act (BSA) and anti-money laundering (AML) compliance.
When charges are filed, David has achieved remarkable results for his clients as well.  He is perhaps best known for his widely-reported victory in defense of high-profile private equity financier Benjamin Wey against federal criminal and civil securities fraud and money laundering charges. The Department of Justice and the Securities and Exchange Commission both voluntarily dismissed their cases against Mr. Wey after David persuaded the trial court that the FBI had violated Mr. Wey's Fourth Amendment constitutional rights when executing search warrants at his company's office and his home, resulting in the suppression of all the evidence obtained from those warrants.
David has handled numerous evidentiary hearings and federal and state appellate arguments in criminal and civil matters, both in and out of government.  His courtroom successes include a 2016 trial victory in federal court in Arizona, in which he defeated a claim against his client, Marvel Entertainment, that it stole a patent holder's design for a well-known Spider-Man role play web-shooting toy.
Indeed, David has achieved very favorable results for his clients in unexpected circumstances in a variety of hotly litigated matters. Most recently, in advance of a criminal trial set to commence in June 2018 in a Texas federal court, David successfully blocked the government's attempt to obtain approval for pretrial Rule 15 depositions of overseas witnesses (a type of motion on which the government routinely prevails).  And in a pretrial motion in another federal civil case, David successfully obtained an order for turnover of materials from his adversary otherwise protected by the attorney-client privilege under the rarely invoked "offensive use" doctrine.
David also frequently writes and speaks on Fourth Amendment search and seizure and Fifth Amendment issues in white collar matters, and on related issues concerning the attorney-client privilege and work product protections, especially in the context of corporate and criminal investigations. At the NACDL's 2018 Spring Meeting and Seminar on "Search, Seizure & Criminal Litigation," David delivered a talk to approximately 400 criminal defense lawyers entitled "In the Wake of Wey: Privileged Attorney-Client Communications, Taint, Overbroad Searches." In January 2018, the New York Law Journal published his article entitled "Decisions Highlight Risk of Unintended Implied Waivers of Privilege," as part of the Journal's special insert section on white collar crime. And ABA's Litigation magazine published David's article "Protecting Privileges in Cross-Border Investigations" in its Summer 2016 edition. He is frequently quoted in the media as an expert in federal criminal procedure and securities matters, including by the New York Times, the Wall Street Journal, Reuters, Bloomberg BNA, the New York Law Journal, and Law 360.
David has been recognized by New York Super Lawyers in Criminal Defense: White Collar, Business Litigation, from 2011-2017. He was also recognized in Best Lawyers in America for Criminal Defense: White Collar, 2013-2018 and Commercial Litigation, 2016-2018.
Immediately prior to joining Mintz, David was co-chair of the Government Enforcement and Litigation Practice of an international corporate law firm and a partner in its New York office.
Between 1999 and 2009, David served as an Assistant US Attorney in the criminal division of the Southern District of New York, serving as a lead prosecutor on numerous complex white collar investigations and prosecutions, federal criminal jury trials, and Second Circuit appeals. As a member of that office's Securities and Commodities Fraud Task Force between 2005 and 2009, David investigated and prosecuted a wide variety of securities industry-related matters, including accounting fraud schemes, market manipulation, insider trading, and investment adviser fraud. Between 2002 and 2005, as a member of that office's Major Crimes Unit and a Computer Hacking and Intellectual Property (CHIPs) prosecutor, David handled complex fraud prosecutions involving computer technology attacks, data security, and intellectual property theft, as well as crimes involving corporate insurance, bank, tax, and investment fraud.
Before becoming a federal prosecutor, David was a litigator in the head office of New York-based international law firm and at a New York business and litigation firm.
During law school, David was a notes editor on the Stanford Law Review.
Education
Stanford University (JD, with distinction)
Cornell University (BA, with distinction)
Experience
Complex Business Litigation
Secured a summary judgment dismissal of a federal business tort case that sought $30 million in damages against the chief operating officer of a multinational financial conglomerate; also prevailed on a rare motion to access the plaintiff's attorney-client communications based on the "offensive use" doctrine.
Defeated a multimillion-dollar breach of contract claim in a federal jury trial against Marvel Entertainment involving royalties for the Spider-Man Web Blaster role-play toy.
Represented several real estate loan securitization and servicing companies in a $100 million breach of contract case in a New York federal court.
Secured dismissal of multimillion-dollar fraud and contract cases filed by investors against an international oil and gas mogul in the Commercial Division of the New York Supreme Court.
Obtained a preliminary injunction for Krispy Kreme Doughnuts in a New York federal case against a franchisee involving Lanham Act trademark and trade secret claims.
Represented a professional basketball player agent against decertification proceedings initiated by player's union in context of collective bargaining.
Enforcement Actions & Investigations
Represented the chief operating officer and director of several foreign financial services companies in a DOJ Tax Division corporate tax fraud probe.
Represented a professional basketball player agent in connection with allegations of NCAA rules violations and related assertions of federal mail and wire fraud.
Counseled an investment advisory firm in a SEC "pay to play" investigation.
Represented an international food company's general counsel in a federal grand jury investigation.
Counseled an advisor at a Fortune 100 financial institution in a DOJ insider trading investigation.
Represented a US bank's chief anti-money laundering officer in a criminal investigation of alleged anti-money laundering and Bank Secrecy Act violations.
Counseled an international market consulting firm CEO and founder in a federal market manipulation and money laundering case.
Advised employees of major international financial institutions amid multiple DOJ, CFTC, and foreign regulator investigations into alleged trading improprieties and anti-competitive actions; and in residential mortgage-backed security (RMBS) investigations by the DOJ, the SEC, and state regulatory authorities.
Represented parties in FCPA investigations, including numerous financial institution employees in a matter that also involved commercial bribery allegations; a former investment banking division chief of a major financial institution; and a founder and CEO of an international oil and gas company in a matter involving alleged indirect payments to a financial institution director.
Represented a company and individuals in an investigation that involved allegations of trade secret theft and misappropriation of a business rival's data.
Advised an automobile manufacturing executive amid a DOJ investigation and civil litigation regarding National Highway Traffic Safety Administration issues.
Counseled an offshore trading subsidiary executive of a Wall Street financial institution during DOJ and SEC investigations into alleged trading improprieties.
Advised an internet technology executive facing a Computer Fraud and Abuse Act (CFAA) investigation.
Represented current and former financial institution traders and trading executives, including in a FINRA matter targeting complex financial instrument trading practices and in SEC and FINRA probes into market access regulations.
Counseled a Big Four accounting firm executive in an international Public Company Accounting Oversight Board (PCAOB) obstruction and accounting fraud investigation.
Represented a hedge fund analyst amid a criminal investigation into alleged insider trading involving a so-called "expert network."
Counseled a foreign corporation regarding a federal grand jury investigation into a Bitcoin exchange.
Advised a cash handling and processing company on legal issues related to commercial marijuana distribution.
Recognition & Awards
Forbes: "…one of the top white collar attorneys in the country…" Federal Judge Rules FBI Agents Conducted Illegal Search of Business, by Walter Pavlo (2019)
Best Lawyers in America: Commercial Litigation, Criminal Defense: White-Collar (2013-2020)
New York Super Lawyers: Criminal Defense: White Collar (2019)
Recent Insights
News & Press The New York Law Journal reported on a new indictment in a federal white collar crime case in the Eastern District of New York. Mintz Member David M. Siegal was quoted as counsel for the defendant, John Drago. Mintz Member David Siegal has uncovered yet another violation of a client's Fourth Amendment rights (unreasonable search and seizure), this one in the Eastern District of New York. Forbes covered the development in the case, United States v. Drago, and noted Mr. Siegal as "one of the top white collar attorneys in the country." The New York Law Journal reported that the defendant in a federal white collar crime case will get some of his business records back, now that a U.S. District Judge in the Eastern District of New York has found that they were seized through an illegal search warrant and must be suppressed. Mintz Member David M. Siegal is representing the defendant in the case, United States v. Drago.


Events Mintz Member David Siegal is speaking on a panel entitled, "Hot Topics in Trial Preparation". At the 2018 NACDL White Collar Seminar, Mintz Member David Siegal will speak on a panel entitled, "Attorney Client Privilege". Mintz Member David Siegal is moderating a conversation with Marc Berger, Director of the New York Regional Office of the SEC.
Events
Panelist
Hot Topics in Trial Preparation
National Arts Club - 15 Gramercy Park S, New York, NY 10003
Speaker
Panel on Attorney Client Privilege
The Capital Hilton Hotel - 1001 16th St NW, Washington, DC 20036
Moderator
Briefing with Marc Berger, Director, SEC's New York Regional Office
New York, NY