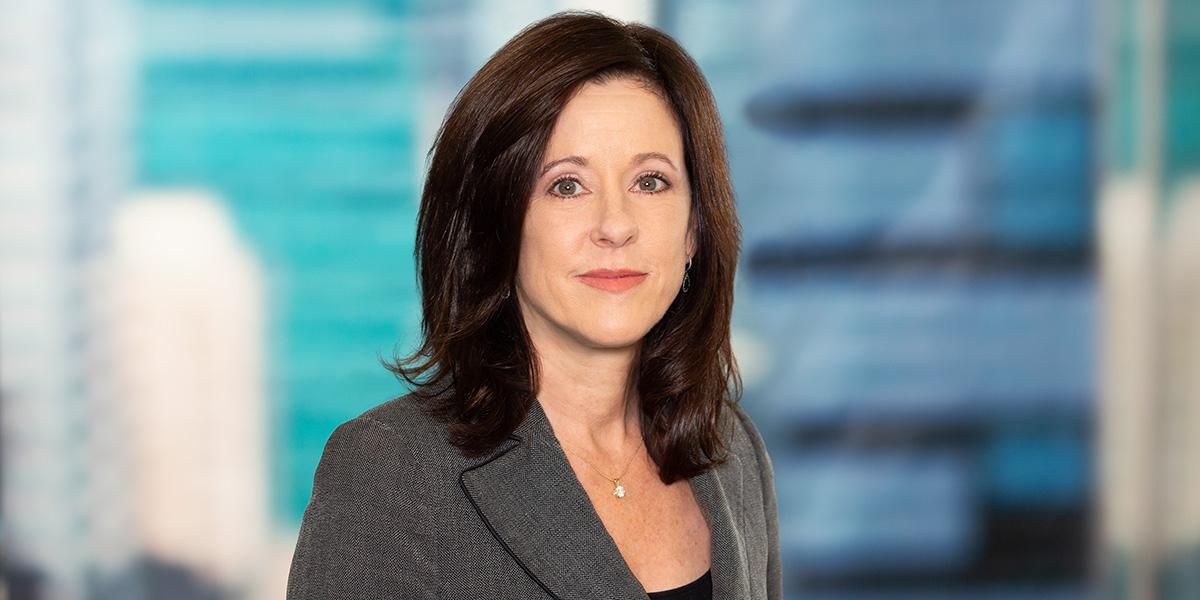 Therese M. Doherty
Member / Co-Chair, Financial Services Practice
+1.212.692.6722
Therese is a tenacious litigator with a reputation for developing and implementing creative strategies that drive successful outcomes for her clients. She has consistently been rated one of the country's top securities lawyers by The Legal 500 United States, which calls her an "excellent partner to clients," and hails her "ferocity, intelligence and perseverance in litigation" as well as her "depth of industry knowledge."
In addition to her reputation as an exceptionally successful litigator in federal and state jury and bench trials, Therese has achieved a national reputation for successfully defending firms and individuals in investigations and enforcement proceedings initiated by government agencies. She has successfully defended clients in matters before the CFTC, SEC, and DOJ; self-regulatory organizations including the NFA and FINRA; and futures and derivative exchanges.
Clients in the securities and financial industries regularly rely on Therese for representation and counsel in high-stakes litigation matters. She has represented banks, broker-dealers, futures commission merchants, and industry executives in complex civil litigation, regulatory enforcement proceedings, and internal investigations involving securities, futures, and derivatives.
In addition, Therese regularly works with clients to develop effective strategies for handling corporate crises, and provides incisive regulatory counseling, leveraging her litigation experience to help clients develop effective policies, procedures, and controls to ensure compliance with industry regulations. She has successfully represented clients in cases involving regulatory concerns such as spoofing, wash trades, market manipulation, high-frequency trading, swap data repositories and the setting of LIBOR rates, as well as in complex matters involving, among other issues, accounting improprieties, allegations of fraud, and RICO violations.
Leading financial institutions also call on Therese for help resolving recruitment and other employment-related disputes. She has consistently achieved successful results for clients on both sides of preliminary injunction hearings seeking to enforce restrictive covenants.
Prior to joining Mintz, Therese was a partner in the New York office of another large law firm, where she co-chaired the litigation department and led the securities, futures, and derivatives litigation practice.
Education
Brooklyn Law School (JD)
University of Massachusetts (BA, cum laude)
Experience
Representing a prominent investment bank and futures commission merchant in an investigation by the division of enforcement of the Commodity Futures Trading Commission regarding the purported failure to properly report certain swap data to the firm's designated swap data repository.
Obtained a complete defense award in favor of an executing FCM in a NYMEX arbitration which involved allegations that a guaranteed floor broker violated exchange rules resulting in substantial trading losses and other consequential damages.
Represented a futures commission merchant in defending against potential claims by a hedge fund receiver whose manager committed fraud. We defended the FCM in an investigation by the CFTC, which asserted no charges.
Represented a futures commission merchant in a CFTC investigation arising from a $200 million fraud perpetrated by a hedge fund manager and commodity pool operator who hid trading losses.
Defended a leading futures and options broker in a civil litigation stemming from a $200 million fraud perpetrated by a hedge fund manager.
Successfully represented a veteran commodity trader against potential federal felony charges related to alleged "wash trades" executed on behalf of a customer suspected of having ties to Russian organized crime. Obtained a non-prosecution agreement with the U.S. Attorney's Office for the Eastern District of New York.
Represented an FCM in federal court defending against a former broker's claims seeking to recover commissions and compensation arising from alleged breaches of an employment contract.
Represented an FCM in an arbitration brought by a software developer to recover fees allegedly owed for the use of a platform to support OTC brokers in the fixed income and derivative markets.
Conducted an internal investigation of a foreign exchange desk in Asia and advised on suspicious activity reporting requirements.
Defended an FCM against claims filed in federal court alleging that a former employee of the FCM assisted the employee of Bank of Montreal to overvalue the bank's over-the-counter natural gas options book by more than $600 million.
Defended a leading FCM against claims brought by another FCM who accused our client of violating the Commodity Exchange Act, breach of contract and negligence in connection with futures and options trading in an omnibus clearing account. After the Southern District of New York dismissed the complaint, we obtained a dismissal with prejudice of a new complaint filed in state court.
Represented a broker-dealer and its employees in a "raiding" dispute brought by a rival broker-dealer, including claims of corporate espionage and theft of trade secrets. After a number of plaintiff's claims were dismissed at the pleading stage, we obtained summary judgment in favor of our clients and dismissal of the remaining causes of action.
Represented the principal of a securities trader/broker-dealer in connection with investigations by the New York State Attorney General and the SEC into mutual fund trading practices including market timing and late trading.
Defended the former CEO of a major fiber optic company in an SEC investigation of accounting irregularities. After a grueling deposition and an in-depth Wells Submission, the SEC determined not to pursue any action against our client.
Represented a broker-dealer and its employees in a multi-million dollar FINRA arbitration brought by an introducing broker/investment advisor and his customers. The customers suffered losses in clearing accounts when their short positions became over-leveraged and they failed to meet margin calls, prompting their investment advisor to liquidate their positions. An arbitration panel in Denver rejected the claimants' attempt to blame our clients for the losses, dismissed all of the claims, ordered the expungement of the matter from the FINRA registration records, and awarded $500,000 in damages to our client. A federal district court denied the claimants' motion to vacate the award and confirmed it in all respects.
Represented the independent directors of a public corporation in conducting an internal investigation into shareholder derivative claims.
Successfully represented a commodity futures broker in an SEC investigation into allegations that the broker participated in a Ponzi scheme fraud perpetrated by a hedge fund manager. Following our Wells submission, the SEC determined not to pursue any enforcement action against our client and closed the investigation.
Represented the former CEO of a publicly owned telecommunications company in two securities fraud class actions stemming from the company's bankruptcy in the wake of the dot-com bubble burst. The first complaint alleged fraud in connection with disclosures about the company's credit facility. The plaintiffs then filed a second class action alleging that our client engaged in accounting improprieties and caused the company to issue false financial statements. The court granted our motion to dismiss the second complaint on the ground that plaintiffs were on inquiry notice of a potential fraud long before they asserted their claims, and dismissed the action as barred by the statute of limitations. We were able to obtain a settlement of the entire matter on terms that were very favorable to our client.
Secured a defense award on all claims against one of the world's largest commodity trading firms following an arbitration by a customer before the National Futures Association. Asserting claims of common law fraud, fraud under the Commodity Exchange Act, gross negligence, breach of contract, and breach of fiduciary duty, the customer claimed that it suffered millions of dollars in trading losses allegedly caused by the firm's negligence in operating an electronic trading platform and related misrepresentations of the firm.
Represented a brokerage firm in enforcing common law and contractual obligations against a former employee who removed confidential and proprietary information from the firm.
Representing an FCM in ongoing litigation with insurers over their denial of coverage for $141 million in losses caused by a rogue employee's unlawful commodity futures trades.
Defended an FCM in investigations by the CFTC and the CME in connection with futures trading by a customer in violation of capital and trading limits, implicating pre-trade and post-trade risk management.
Represented a hedge fund trader targeted in a CME investigation into alleged "spoofing," or the entering of bids with the intent to cancel before execution, a practice made illegal under the Dodd-Frank Act, and one which has come under increased scrutiny under CME anti-disruptive trading rules. Working with a massive volume of electronic trades, we successfully guided the client through the investigation which was ultimately closed by the CME with no action taken.
Defended an FCM and associated persons in an NFA arbitration brought by a customer alleging that trading losses resulted from the alleged improper conduct of various associated persons. Obtained a confirmation of the arbitration award in favor of our clients.
Represented a futures compliance director in connection with a Commodity Futures Trading Commission (CTFC) investigation into exchange for related positions trades (EFRPs).
Successfully defended an associated person of a futures commission merchant in an enforcement investigation commenced by the Intercontinental Exchange (ICE) alleging that the associated person had improper pre-trade communications, pre-hedged a position on behalf of the FCM, and charged improper mark-ups in executing a futures trade in the sugar market.
Successfully defended several former MF Global officers and employees in investigations conducted by the Department of Justice, CFTC, CME, and SEC in connection with the collapse and bankruptcy of MF Global following the discovery of $1.2 billion in missing customer segregated funds. No criminal or regulatory charges were asserted against any of our clients.
Represented a major commodities broker in a class action brought in Florida state court. The plaintiffs were investors in a foreign exchange hedge fund whose principal perpetrated a multi-million dollar fraud. The investors alleged that our client, which executed trades on behalf of the fund, violated Florida blue sky laws and aided and abetted the fraud. After twice dismissing the complaint and granting plaintiffs leave to replead, the court finally dismissed all claims with prejudice and awarded our client its costs and attorneys' fees. The appellate court affirmed.
Conducted an internal investigation into massive trading losses incurred by a rogue employee of an FCM, and represented the FCM in connection with resulting investigations into the conduct by the CFTC and CME.
Obtained dismissal with prejudice of federal and state court complaints asserted against an FCM by investors in a commodity pool who alleged that the FCM aided and abetted a Ponzi scheme perpetrated by the pool operator. We secured a favorable opinion by the Fifth Circuit Court of Appeals in a case of first impression interpreting the Commodity Exchange Act.
Represented an FCM in a class action lawsuit defending against claims alleging that the firm engaged in, or assisted, a scheme to manipulate the prices of palladium and platinum futures contracts traded on NYMEX.
Defended several officers and employees in civil and class action lawsuits filed in the wake of the bankruptcy and collapse of MF Global amid allegations of missing customer segregated funds. Among many successes, we secured the dismissal of the CEO from the securities class action, and the dismissal of five officers and employees from the commodity class action.
Defended a publicly traded hospitality REIT against allegations by its counterparty, a large multi-national investment bank, that two of our client's funds defaulted on their obligations under a $1.2 billion credit default swap.
Defended an FCM against a Bankruptcy Trustee's allegations that funds transferred to the debtor's trading account were fraudulent transfers and, although largely lost in futures trading, should be returned to the estate by the FCM.
Represented a leading independent broker in a FINRA arbitration in connection with a customer default on over-the-counter credit derivative swap transactions.
Recognition & Awards
Best Lawyers in America: Litigation - Securities (2022)
New York Super Lawyers (2021)
Included on Crain's New York Business: Notable Women in Law list (2019)
The Legal 500 United States: Top Securities Lawyer
Involvement
Member, Futures and Derivatives Committee, New York City Bar Association
Member, Board of Directors, Zoology Foundation
Recent Insights
News & Press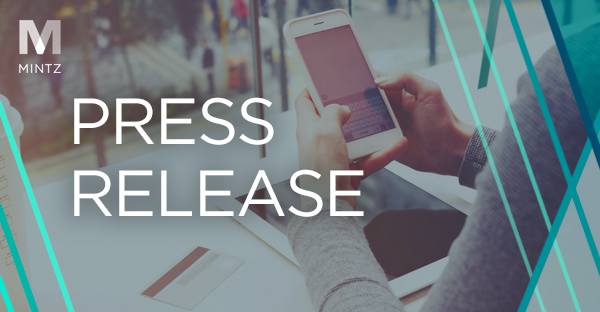 Mintz continues its ongoing commitment to ensuring the firm is an equitable workplace, establishing a new Diversity, Equity and Inclusion (DEI) committee that reports directly to the firm's main decision making body, the Policy Committee. The new Equity Advisory Council (EAC) will be responsible for driving equity for the firm's attorneys, especially women, attorneys of color and LGBTQ+ attorneys.