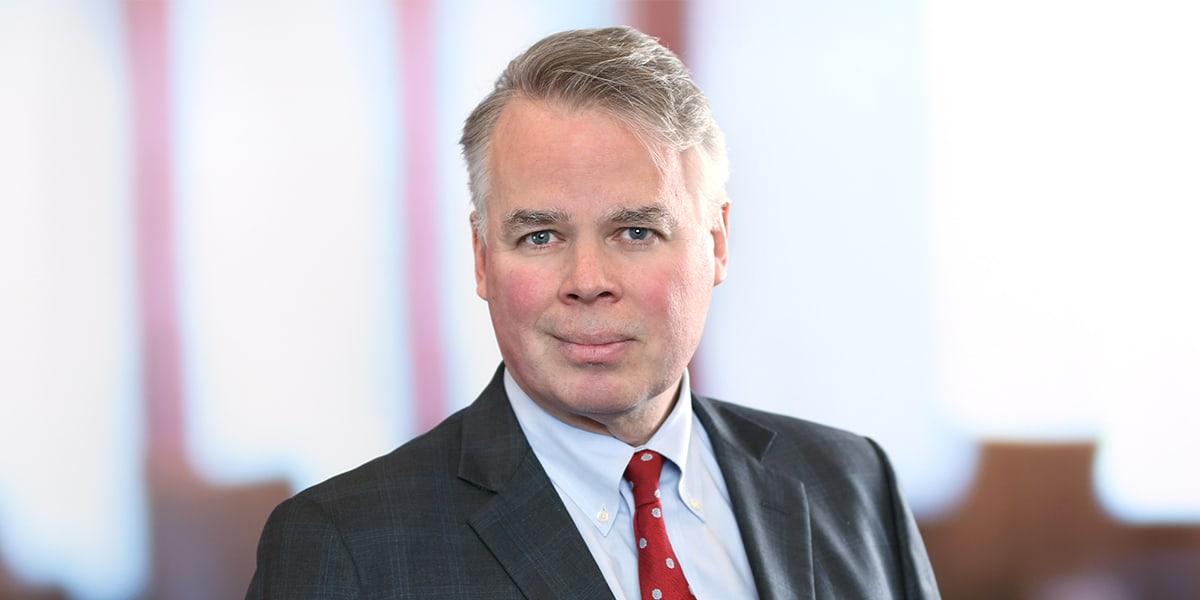 William M. Hill
Member / Co-chair, Construction Law Practice
+1.617.348.1794
Will is a preeminent construction lawyer and Co-Chair of the firm's Construction Practice Group representing clients in courts and arbitration and mediation venues and helps clients avoid litigation when possible. His practice encompasses construction and real estate disputes and transactions as well as commercial and corporate litigation. Will is Fellow in the American College of Construction Lawyers, a highly selective association of construction law practitioners, professors, and judges. As past chair of the American Bar Association Forum on Construction Law, he has also helped shape issues facing the construction bar. A broad spectrum of clients, including individuals, nonprofit organizations, and publicly traded companies rely on his counsel.
He represents and counsels individuals, small businesses, financial institutions, nonprofit institutions, and publicly traded companies. Will is committed to finding efficient and practical solutions for clients by resolving disputes under difficult circumstances. With respect to construction counseling and dispute resolution, he counsels owners, lenders, general contractors, joint ventures, and subcontractors across a variety of private and public sector projects. Will has focused on delivering a variety of projects for clients in an efficient and timely manner using optimal project delivery systems.
Will's practice includes appearances before state and federal courts, the American Arbitration Association and other ADR providers, and local boards and commissions. He has been trained to serve as an Arbitrator and Mediator and selected to serve on the panel of construction neutrals of the American Arbitration Association.
Will has been a leader in the local and national construction bar for nearly twenty years and is past Chair (2016-17) of the ABA Forum on Construction Law, the world's largest organization of construction lawyers. Will previously served on the Governing Committee (2011 - 2013) and as Chair of the Marketing Committee of the Forum. Will is a member and past Chair (1998 – 2000) of the Construction Law Committee of the Boston Bar Association. He has spoken, published, and chaired programs and publications for the ABA's Forum on Construction Law, the BBA, and other trade and industry organizations
He has lectured and published on a variety of topics, including techniques for direct and cross-examination of expert witnesses, electronic discovery, mediation, and numerous subjects concerning construction law. Will has written articles for such publications as the Construction Lawyer, Engineering News Record, the Boston Bar Journal, Boston Business Journal, and the San Diego Transcript. In connection with his nonprofit and community work, Will has authored op-ed pieces and editorials in the Boston Globe and Outdoors Magazine.
Will has been active in his community and in nonprofit organizations. He is the Founder and Chair of the Board of Building for Good Inc. (B4G), a national web-based platform linking non-profits and charities with skilled pro bono construction lawyers, which launched in October 2019. He has been a leader in the conservation and outdoor recreation civic and nonprofit community, having served on the Board of Directors and as past Chairman (2005 – 2008) of the Appalachian Mountain Club, a 90,000-member conservation and outdoor recreation organization. In addition, he is past Co-chair (2008 – 2016) of the Board of Advisors of the AMC. In 2018, Will received the AMC's distinguished service award. He has also served as Conservation Commissioner (three years as Chair) and trustee of the local land trust in his home town.
Education
Northeastern University (JD)
Dartmouth College (BA, History)
Experience
Transactional
Represent a variety of owners (education, insurance, commercial, medical, and nonprofit) on construction contracts negotiation and as counsel on project delivery systems.
Represent contractors and major subcontractors on negotiations on a variety of project types and project delivery systems.
Represented DivcoWest in all matters pertaining to the drafting of construction documents for its 42-acre NorthPoint project in Cambridge, Massachusetts.
Represented Drawbridge Realty in expansion and new construction at its 10 acre Airport Technology Park in Salt Lake City, UT.
Represented General Electric in all phases of construction related to the company's Boston Headquarters.
Represented General Electric in all phases of environmental remediation and related dredging and construction projects for the Housatonic River area. 
Represented General Electric in the negotiation of construction contracts and resolution of contract disputes for its Hudson River remediation project. 
Negotiated the construction contract for Boston's flagship 115,000-square-foot food distribution facility for the Greater Boston Food Bank. 
Disputes & Workouts
Represented an international theater venue operator in litigation against contractors, design professionals and a steel testing company for defective design and construction of a theater. Action initiated in state court and successfully resolved in mediation more than two years before anticipated trial date.
Represented an owner in defense of a claim by a commercial tenant that the facility was not SCIF compliant. Successfully resolved in mediation.
Represented a national hotel chain in a dispute with a terminated contractor. Successfully defeated injunction, dismissed litigation in state court, and negotiated resolution in mediation.
Represented a national syndicate of bondholders and bondholder representatives in the successful resolution, workout, and sale of troubled privatized military housing construction projects located in Georgia, Arkansas, Florida, and Massachusetts. Representation of this $1.3 billion project included navigating mechanics' lien, performance and payment bond claims, and the successful defense of an attempted injunction barring sale. 
Represented a joint venture on Boston's CA/T "Big Dig" project in successfully opposing and defeating a bid protest.
Represented a national institutional owner of commercial and multifamily properties in litigation against an architect and a contractor for defective design and construction of a 450-unit Texas project in state court. Successfully resolved in mediation.
Represented a national contractor in the resolution of a construction defect case involving a luxury condominium in Pasadena, California. 
Recognition & Awards
American College of Construction Lawyers, Fellow (2020- present)
Chambers USA: Massachusetts- Construction Law: Band 1 (2020-2022)
National Law Journal: Real Estate/Construction Trailblazer (2020)
Massachusetts Super Lawyers: Construction Litigation (2005 – 2021)
Best Lawyers in America: Litigation – Construction, Construction Law (2012 – 2022)
Boston Magazine Top Lawyers – Construction Litigation (2021)
Distinguished Service Award, Appalachian Mountain Club (2018)
Fellow, American Bar Foundation
Martindale-Hubbell AV Preeminent
International Who's Who of Construction Lawyers (2013 – 2019, 2022)
Who's Who in America
Who's Who in American Law
Involvement
Founder and Chair of Board, Building for Good, Inc.
Past Chair, ABA Forum on Construction Law (2016-2017)
Past Chair, Marketing Committee (2013 – 2015), Former Member, Governing Committee (2011 – 2013), ABA Forum on Construction Law
Member, Past Chair (1998 – 2000), Boston Bar Association Committee on Construction Law
Member, Construction Industries of Massachusetts
Member, Association of General Contractors
Past chair of the Board of Directors (3 years), Appalachian Mountain Club
Past Board Member (9 years), Appalachian Mountain Club
Past Co-chair, AMC Board of Advisors (2008 – 2016)
Past Commissioner (6 years), past chair (2 years), Acton Conservation Commission
Past Trustee, Acton Conservation Trust