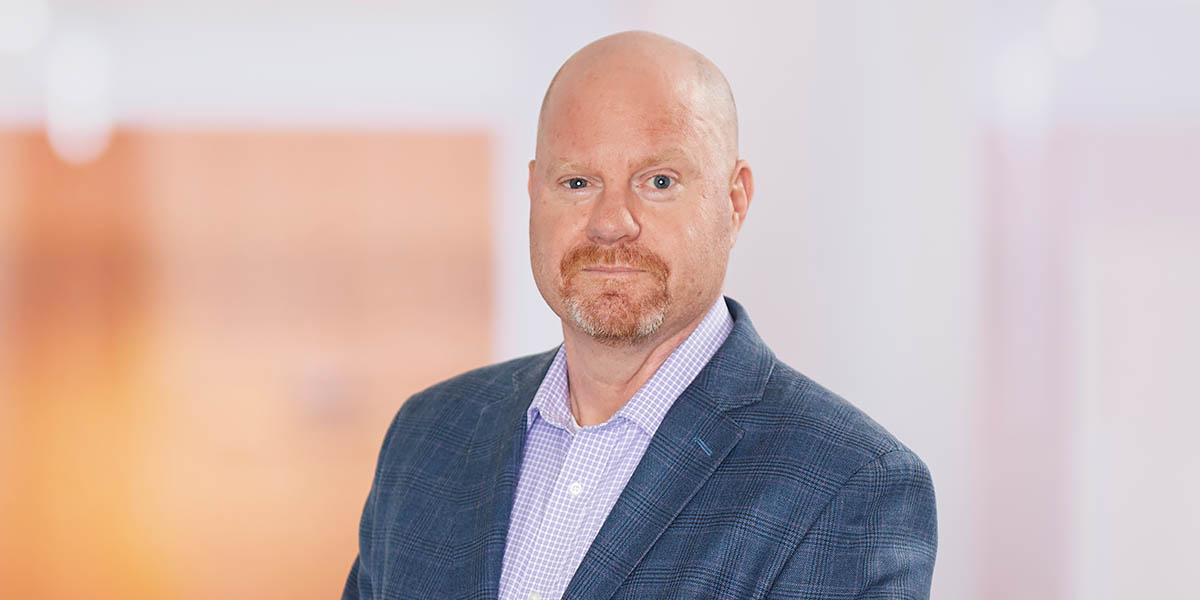 Michael T. Renaud
Member / Chair, Intellectual Property Division
+1.617.348.1870
Michael is a highly regarded intellectual property litigator and patent strategist who helps clients protect and generate revenue from their patent holdings. Intellectual Asset Magazine has repeatedly recognized him in its select IAM Patent 1000 and IAM Patent Strategy 300 publications. Clients rely on his counsel regarding sensitive licensing agreement negotiations, acquisitions, and other technology transactions. He leads a team known for its ability to translate complex technology and its value to non-technical professionals — in court and business negotiations.
Michael is Division Head for the Intellectual Property Section at Mintz and serves as a member on the firm's Policy Committee. He is an experienced litigator known for his business approach to creating value in patent assets. His success on behalf of clients comes from his ability to identify the value drivers in a portfolio and communicate that value to competitors, investors, purchasers, licensees, counsel, judges, and juries.
With a background in mechanical engineering and nearly 20 years' experience practicing law, he has the combination of technical and legal skills essential to a strategic patent practice. He has achieved courtroom victories and negotiated favorable settlements on behalf of both patent owners and accused infringers in complex negotiations and protracted litigation.
Michael develops strategies for and guides clients through monetization programs for complex technology portfolios. Several recent monetization programs have each returned tens of millions of dollars through litigation, licensing, and sale activities.
Michael also advises clients on patent portfolio assessment and conducts IP due diligence in connection with transactions. He counsels private equity firms and venture capital funds on IP assets and patent value. He also helps patent owners develop and implement strategies for identifying and leveraging untapped assets in their patent portfolios.
He has particularly deep experience litigating Section 337 matters before the International Trade Commission and has also achieved significant success in Federal District Courts, including the Eastern District of Texas, District of Delaware, Northern District of California, District of Massachusetts, and numerous others.
Michael's technology experience includes electromechanical systems, digital cameras, embedded microprocessors, telecommunications and network software, cellular phones, and e-commerce, among others.
Michael rejoined Mintz from Pepper Hamilton LLP in 2012.
Education
University of Connecticut (JD)
Duke University (BS, Mechanical Engineering)
Recognition & Awards
Selected for the 2015 – 2018 editions of IAM Strategy 300 – The World's Leading IP Strategists
Identified in the IAM Patent 1000, a listing of the "World's Leading Patent Practitioners," as a "go-to attorney for technology patent litigation" (2015-2019)
Included on the Managing Intellectual Property: Patent star - Massachusetts list (2018)
Chambers USA: Massachusetts – Intellectual Property (2015 – 2017)
Recognized by The Legal 500 United States for Intellectual Property: Patent Litigation - International Trade Commission (2017-2018)
Included on the Super Lawyers Top 100 Attorneys in Massachusetts list (2016)
Included on the Massachusetts Super Lawyers – Intellectual Property Litigation list (2007, 2011 – 2018)
Involvement
International Trade Commission Trial Lawyers Association
Recent Insights
News & Press Mintz Member and Chair of the firm's Intellectual Property Division Michael T. Renaud was quoted in an article published by the Boston Business Journal featuring advice from top patent attorneys for innovators. An article published by Law360 reported that following the U.S. International Trade Commission's initial decision that Jennewein Biotechnologie GmbH's imports infringe a Glycosyn LLC patent on human milk oligosaccharides, the Patent Trial and Appeal Board denied Jennewein's petition for post-grant review of a related patent.

The Mintz team representing Glycosyn at the ITC includes Michael Newman, Thomas Wintner, Michael Renaud and James Wodarski; and the Mintz team representing Glycosyn at the PTAB includes Michael Newman, Thomas Wintner, Peter Cuomo and Daniel Weinger.

Events IPBC brings together Chief IP officers at major corporations across Asia-Pacific with their counterparts at major multinationals. Other delegates at the conference will include IP investors, intermediaries, regulators and patent trademark attorneys. The 5th Annual IP Dealmakers Forum will bring together a select group of 200 decision-makers at the forefront of the global IP market, including investors, top IP executives, industry experts and thought leaders.